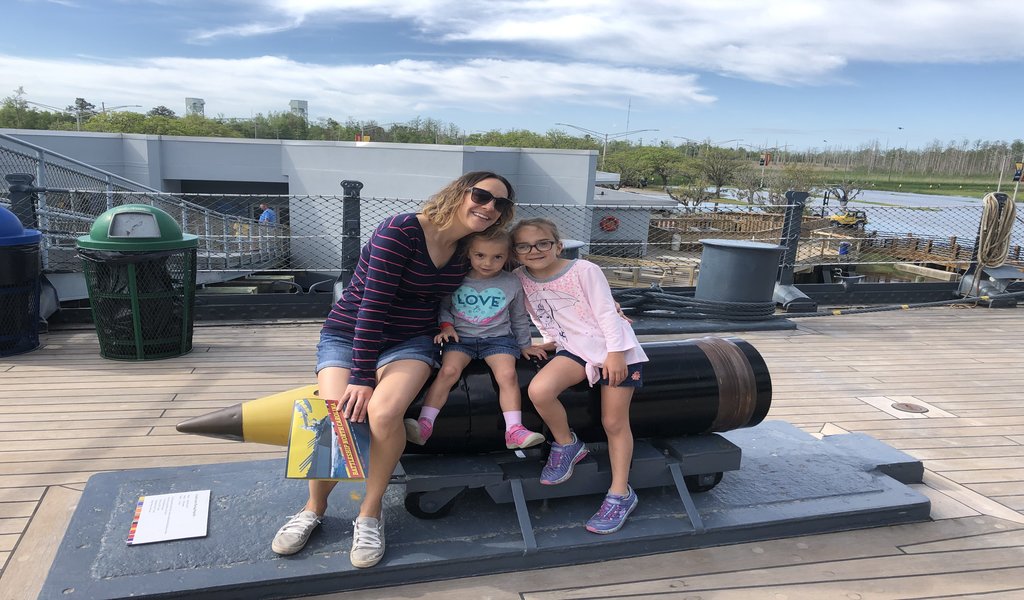 There is a special unspoken bond among working moms. You come in looking like hell because you slept two hours the night before as your littlest was up all night. You're sitting at work wondering how your child's field trip went and day dreaming you are there. You get the call from the school that your child is sick. Or you miss a milestone because you are traveling for work. Oh the mom guilt! It's NOT easy.
I've had employees ask me, and I often ponder myself, what's the secret when balancing work and family? The truth is that sometimes work takes over your life, and sometimes life takes over your work. With my two little girls – 7 and 3 – I do my best to be realistic and embrace the shifts in the work/life balance. Sometimes I feel I'm killing it and other days I feel I'm failing.
Recently, I was having dinner with my father-in-law and he said to me, "Jen I couldn't do what you do. Your mother-in-law couldn't do what you do. Even your mom probably couldn't do what you do. You're doing a great job." It was so refreshing to hear this compliment, and I began asking myself how and why I do this. I realized what it takes is a strong need or desire to succeed in your career and ongoing support from all those around you.
Support from your employer. Support from your significant other. Support from your family and friends. Support from your co-workers. Support from your kids. The saying "it takes a village" is so true. There is no way you can do it alone. In support of all the working mothers, I asked a few friends, family members and co-workers about their experience and advice for other working moms.
"I was given good advice by a female executive when our son was young.  She told me to do my best to be home for at least one meal a day – breakfast or dinner at the table, it didn't matter which one. There is something about feeding my family a meal that makes me feel more accomplished, more so than any deal I have ever closed." – Stephanie Spencer, Vice President of Field Development, JP Morgan Chase
"I was very fortunate when I had my children, in that I had both a supportive husband at home and a flexible environment at work. Both these things enabled me to achieve some sort of balance. When my girls were younger, I relied heavily on my pocket calendar (pre-iPhone) to keep up with my girl's ever-changing schedules, and work was my constant. As a working mom, it was always important to me that my work schedule adapted as my children grew so that I could always be there for their important moments. Now that my taxi days are over and my girls all grown up with their own busy schedules, I cherish the time when we are together and am able to increase my presence in the office." –  Kelly Erickson, CFO, Sweeney employee of 31 years
"Working……isn't this what all of us women are doing? If you are at home or in the workforce we all share this commonality. Being a single mother of 2 for about 11 years sure did have its daily challenges, plus let's add on a heaping spoonful of guilt too! However, as the days passed to weeks that passed to months and years, I finally realized that not only was I a mother but I, myself, was able to support my own little family. I could give them a home plus do homework and make it to football practice as well. It really is all about balance and fitting it all in, and when you watch your children grow into warm respectful human beings, you'll know you really did do it all right." – Kim Piazza Longo, EFDA (Expanded Functions Dental Auxiliary)
"It's tough working a full time job and being a mom. It's an early wake up call to go run a marathon at work and shortly after run another marathon being a mom. But I wouldn't have it any other way. I love my job, and I love being able to leave a stressful job and come home to two smiling babies that make me feel like I'm their entire world. I can definitely say that the best part of my day is leaving work to go pick up my kids and have them run up to me smiling and giving me a huge hug." Marie Ruck, Instructional Coach, Gibsonton Elementary
"My daughter is 20 months old and when I came back to work I faced (and still do) so much mom guilt. There's nothing worse than dropping your child off at daycare and hearing them cry you as you walk away. But, honestly, I'm so proud of everything my daughter does from learning new words to developing habits like saying "thank you" and putting her toys away. She's my inspiration for everything I do. And, I want her to be proud of me too. When she's older, I really hope she knows that her mom found her passion, and guide her on the path to do the same.
I also think my generation is one of first workforces that's not afraid to ask for benefits such as more flexibility. Day to day, I see more and more of my peers aren't afraid to create their career paths and define how they want to work. And I think companies are seeing that and changing too. It's progress, but we are just catching up with the rest of the world. I have a career that I love and I am passionate about the work we do, but my daughter is my priority. I believe you can achieve some sort of level of work/life balance if you communicate often to your managers, as well as make sure everything is aligned for work to get done then." Rebecca Wrenn, Creative Director, Sweeney
Be the best at work and be the best at being a mom. Live in the moment as best you can and appreciate and celebrate that you really are doing something amazing!