Vaccine Awareness Campaign
Cleveland MOTTEP (Minority Organ & Tissue Transplant Education Program) provides culturally appropriate health education and transplant awareness. The organization intentionally leverages a community-based approach to help dispel healthcare myths and misconceptions in the local minority community. In 2021, Cleveland MOTTEP was granted funding from the Centers for Disease Control Foundation to implement initiatives that sought to increase influenza and COVID-19 vaccine confidence and coverage among communities experiencing health disparities. Cleveland MOTTEP continued its longtime partnership with Sweeney to create a multifaceted, culturally appropriate vaccine awareness campaign.
According to the Centers for Disease Control Foundation, vaccination is considered one of the most important public health achievements of the 20th century. Vaccines save lives and improve quality of life. However, the benefits of vaccination are not realized equally. Moreso, the communities experiencing disparities are also disproportionately affected by COVID-19 or flu, as well as at risk for serious illness from COVID-19 or flu. During the COVID-19 pandemic, for example, the Ohio Department of Health calculated that 51% of White residents were vaccinated against COVID-19, as opposed to only 39% of Black residents.
Cleveland MOTTEP and Sweeney set out to use this funding to create a campaign that targeted specific neighborhoods within the Cleveland community that were experiencing high mortality rates as a result of the COVID-19 pandemic. The campaign was executed based on strategic and culturally appropriate creative and messaging designed with the target audience in mind.
The concept of the campaign is inspired by the Rosie the Riveter campaign of the 1940s, leveraging Rosie's infamous arm flex pose, this time to display a vaccine bandage with pride, and the "We Can Do It!" headline, now conveying a community's ability to unite and overcome the threats of COVID and Flu.
Bold, clean typography and engaging layouts of interacting type and image optimize visual communication of
key messages. A broad color palette combines to represent the unification of a community, and is also used in pairings to represent different categories of campaign visuals — blue and orange for COVID, green and fuchsia for Flu. A pop of bright yellow is included throughout materials to color the band-aid motif, and is also used in combination with magenta for non-categorized materials.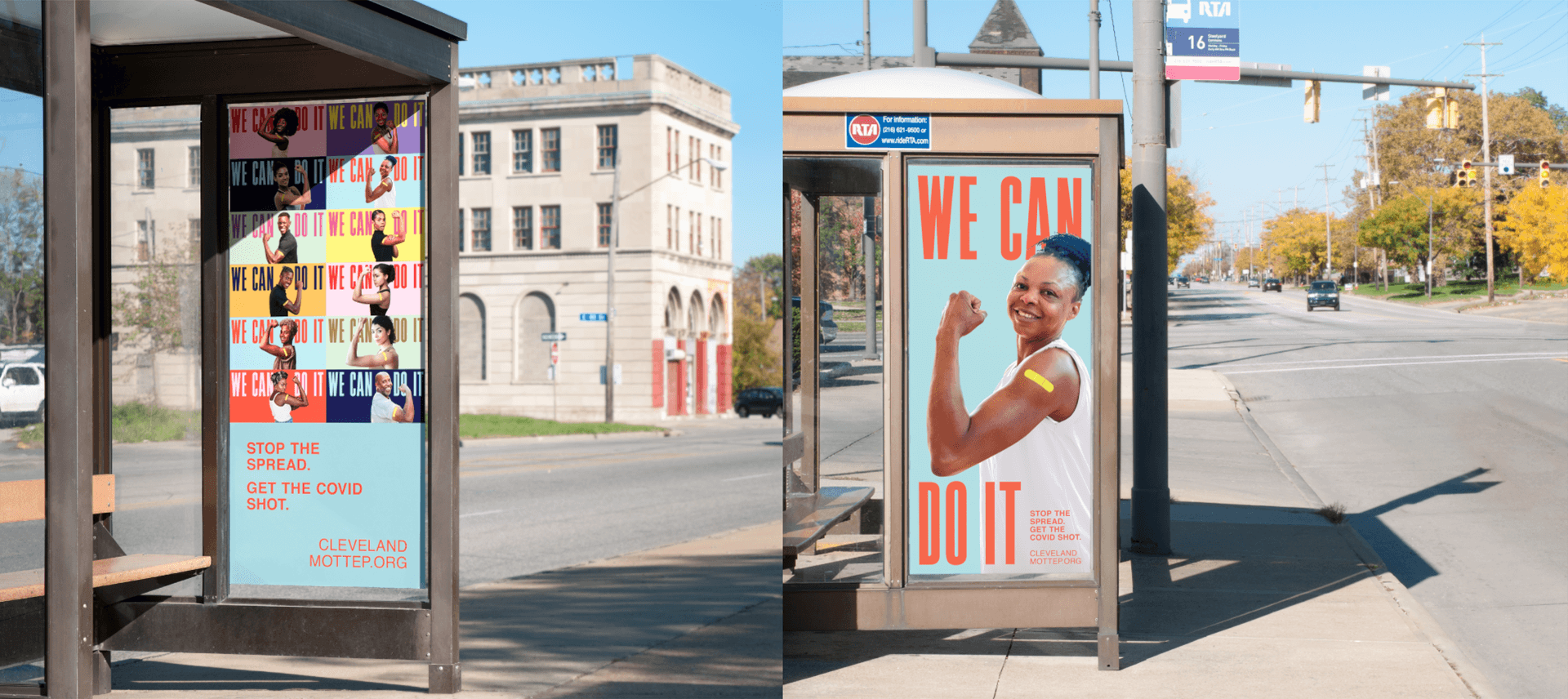 Sweeney developed and designed the creative strategy, campaign identity, and messaging that was applied to supporting campaign marketing materials, including targeted outdoor advertising, website, social media, newsletters, press releases and giveaway material, such as bumper stickers and yard signs.
The campaign ran from June 1, 2021, to April 14, 2022, and followed vaccine recommendations and crucial information from the Centers for Disease Control.