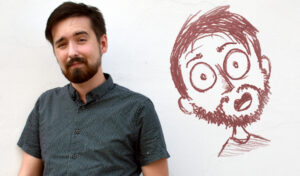 So far this summer, our creative team has been busy designing, collaborating and strategizing with our amazing clients. We wanted to take a moment to highlight our graphic designer and fan of all things quirky, Alex Robinson. Find out what fuels his creativity in and out of the Sweeney office.
Describe your role at Sweeney.
I am a Graphic Designer with the role of supporting creative campaigns and projects for our clients and the agency. I am actively involved in our brainstorming processes, conceptual design phases and the creation of finished pieces. My goal is to help provide smart, efficient and high quality content.
What's one experience from your childhood that you feel helped shape you into who you are now, and your creative career?
As a kid, I was drawn to the art of comics. I would doodle stories every single day (sometimes to my teachers' dismay) and share them with all of my friends. Writing and illustrating imaginative sequences as a form of storytelling and then allowing these pieces to communicate to others helped jumpstart my drive to utilize my creative talents as a career. I highly recommend checking out Scott McCloud's book, Understanding Comics for a detailed analysis of sequential art and how it impacts our culture.
Do you have any creative hobbies/interests outside of work that inspire your creativity, and why?
For me, it's always important to take time to create for the sake of creating. One thing I love to do in my free time is to sit back and create spontaneous artwork for myself, giving me the freedom to act as my own client. I love tangible pieces, so creating illustrations that I can print as magnets, stickers, buttons or t-shirts is essential. Currently I'm collaborating with my partner to silk screen t-shirts of a design based on her cat, Spider. Why? Just for fun.
Who is your favorite graphic designer/artist, and why?
For a long while, Aaron Draplin has been one of my favorite designers of all time. His incredible use of thick lines, bold colors and remarkable precision impresses me constantly. Not only that, but last year I had the opportunity to listen to Draplin speak at Adobe MAX. Gaining insight to his workflow and processes showed me many ways that I relate to him as  designer and gave me a confidence boost in my own creative endeavors.
What excites you the most about working at Sweeney?
Sweeney brings together so many brilliant minds to tackle many challenges presented by a diverse range of clients. Not only do I have the opportunity to produce all types of projects, but I also get to collaborate with a multitude of coworkers with many skillsets. When I come into brainstorm sessions, I know that I'll be met with a variety of amazing ideas. Then by the end of a project, so much energy, passion and creativity has been poured into the work, leading to immensely positive reactions from both our clients and team.
What has been one of the best surprises about working at Sweeney?
I've been surprised at how much I am a leader in my position. One of the biggest worries many people have coming into a job is that their voice won't be heard. It's the opposite here at Sweeney and I feel that I make a major decision-making impact on a daily basis. My design expertise is truly valued at Sweeney.
What do you find to be the scariest aspect about being a graphic designer?
It is incredibly easy to get one's head and begin to have imposter syndrome. When something isn't working as intended or you're having creative block, it's easy to begin thinking that maybe you've been posing as a designer this whole time and no one has caught on. One of the best ways to overcome this has been printing out positive reactions via email, writing down compliments and constantly reassuring myself that my passion will continue to drive me to greatness.
What's one of your biggest goals right now?
I am looking to expand my role further by taking on more leadership opportunities both in and out of the office. One way to do this is to share more of my experiences with others as a form of guidance. At Sweeney, I'm involved with the management of more projects, helping drive some of our campaigns such as work for the upcoming grand opening for the Ohio City Pizzeria.
Who is your dream client, and why?
I love the idea of hometown pride. I want to work with a client with a unique flair where we get to drive a loud and vibrant brand that references local culture. Being out of our Cleveland office, I want to see us take on a project that involves some sort of public work of art, such as a large-scale mural downtown. It'd also be incredible to utilize local venues and produce interactive event design pieces.
What are your creative goals, both for the agency and personally, for the remainder of the year?
I want to see our team and myself expand upon collaborative opportunities. With our growing Creative Team, there's no time better than now to continue working together on bigger and better projects that involves the talents of everyone. For my personal design work, I want to improve my collaborative efforts by making more connections through local groups such as the Cleveland Chapter of AIGA. The more we all work together, the stronger our final results will be.