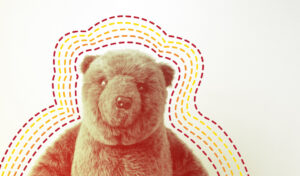 As we approach a new decade, our creative team is excited to see how graphic design will ebb and flow with new technologies, political climate, cultural shifts and generational preferences. I connected with our in-house design experts – Alex Robinson and Olivia Hiles – for insight on upcoming graphic design trends for 2020: what we are most excited about, as well as a few predictions of our own (Dear Santa… think of this as our design wish list for the New Year).
Looking at ahead at design trends for 2020 – what are you most excited about, and why? 
OH: I'm excited for typography to be a big focus. It's always so impressive to me when it only takes one element — type–used in strategic ways, to communicate information, a mood, and a personality, so simply but so effectively.
AR: I am personally excited about the return of realistic texture in design. Recently much of the design industry has relied on the use of both flat colors and gradients. This has led to some incredible clean layouts that find a striking balance between positive and negative space, but I think it's about time that we head back to drawing from natural textures in order to create more experiences where the viewer can truly imagine the feel of piece. Secondly, I am super interested in the exploration of multimedia designs that pair photography and illustration. We have plenty of tools at our fingertips that allow us to manipulate photos, creating concepts and collages that would be incredibly costly and time consuming through a normal photoshoot. With our resources, it's possible to construct mashups of many forms of media to build unique imagery – splicing together illustration and photography is a really cool way to combine creative mediums.
RW: Looking at all these design trends, I am most interested in seeing how technology will impact graphic design and these futuristic trends in front of us – 3D graphic design compositions, VR panoramas, surreal product imagery. We are watching digital design become more and more realistic looking every year, and the software available just keeps getting better and gradually concealing the distinction between real imagery and digital recreations.
Do you have any predictions on design trends for 2020, and beyond?
OH: I've been seeing a lot of overlapping grid layouts in the past several months, so I would bet that that's going to keep gaining momentum through 2020. It'd be cool to see it evolve in a way where it's not just done to follow the trend but done in a way that is very meaningful for what's being communicated. It's also always inspiring to see a ubiquitous trend approached in a new and even more creative way, so I'll be looking out for that!
AR: I predict that along with the use of more realistic textures in design, we will begin to shift back toward skeuomorphic design. Skeuomorphic design is currently an outdated trend that was heavily prevalent in early smartphone interfaces, such as the original wave of iPhones where graphics were designed to mimic real world objects and counterparts. For instance, digital books were represented as textured pages, calculator apps looked more like physical buttons and scheduling tools appeared as planners that were accompanied with realistic textures. What I see is that lately we are bombarded with all assortments of flat designs that lack any direct connection to real world counterparts. It would make sense that after becoming tired of these same plains of colors and gradients, our human instincts would begin to crave a time prior to smart devices controlling our every action. With more types of digital interactions such as augmented reality and virtual reality creating a bridge between the physical and digital worlds, it only makes sense that design would begin mimicking real world objects yet again.
RW: Again, I keep thinking about new technologies and graphic design. I would love to see how we can continue to get better at improving the user experience – how the user interacts with design, going beyond static illustrations and animation. Design and animation that not only draws the viewer to key information being communicated but reacting to the user and learning from the user creating a more intuitive design that can capture the audience.
If you would like to learn more about design trends – check out some articles here and here. Also, check out some recent design-focused blog posts from our team – here and here, or reach out anytime to connect with us! We would love to talk all things design!