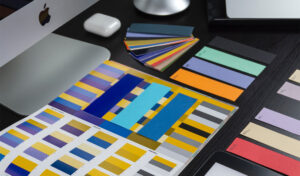 Job searching is stressful, draining, and demeaning. Throw a pandemic into the mix and it's exponentially harder. When you're a recent graduate, especially during these times, it's easy to feel hopeless and defeated. Don't give up! Here are a few tips and tricks from someone whose been in your shoes.
Utilize Unconventional Platforms
Sure, LinkedIn, Glassdoor, and company websites are great places to locate open positions and connect with current employees. So are virtual job fairs and networking events. You may even have some luck with mentorship programs. You should also regularly check your local AIGA chapter's job board. If you're in the area, Philadelphia's is open to non-members as well. But have you considered checking your casual social media platforms? I found my current role via a Facebook group. Keep an eye out for work-focused Facebook groups to join and now-hiring Instagram posts from the marketing agencies and design firms that you follow (who knows, they might even be fully remote!).
Look for Permanently-Remote Positions
A lot of companies are operating remotely, and some are even going to be doing so permanently. Consider looking at out-of-state positions. Many are advertising the opportunity to work from home during and post-COVID. With technology as advanced as it is (the magic of the cloud and video calls), collaborating remotely can be nearly seamless. I work nearly 500 miles away from my colleagues!
Dedicate a Time and a Place to Work on Your Job Search
If possible, set up a quiet space. Devote this space to researching companies, available positions, and crafting your resume and portfolio. Commit a certain amount of time each day to checking job boards daily, reaching out to recruiters and hiring managers, and tweaking your application materials. Essentially, try to treat your job search as if it were a job itself.
Focus on Your Portfolio
Consider attending a virtual portfolio review or scheduling a call with a trusted professor to get some feedback. This will help you narrow down the strongest work to showcase. AIGA Cleveland is hosting one all through May! If you need to revisit any past projects, plan some productivity nights with friends who are in the same boat via FaceTime. It's a great way to keep yourself motivated, enjoy some hangout time, and have a second set of eyes look at your work. Bonus points if you play the early 2000s pop hits that you used to listen to in the labs! For me, having a friend (hi Emily!) to do "virtual productive nights" with made the process much more bearable.
After you've narrowed down the work that you want to showcase, focus on the interview presentation. Nearly everyone is displaying their portfolios digitally right now. Take the time to create a presentation to walk potential employers through. While it may be easier to simply pull up your website, putting the extra effort in to create a presentation will convey your thoughtfulness as a designer and your interest in the position.
Start a Passion Project
Take on an activity that will cathartically flex your creative muscles. It doesn't have to be graphic design-related (though it could be!). A passion project allows you to still get excited about making something but doesn't carry the same pressure as your portfolio does. Consider baking, cross-stitching, painting furniture that you find on the side of the road, anything! It doesn't have to be time-consuming, just something that will give you a creative break. Hours of resume and portfolio updating can cause quite the hopeless feeling. It's nice to have something else to turn to at times. For instance, the passion project that I took on when I felt hopeless was a dollhouse. A nice bonus: it allowed me to use up the backlog of design supplies that I had leftover from college.
Don't Give Up
The bottom line is perseverance. Your job search may take more time than usual. Though it is draining, try not to let the process get you down too much. Utilize the resources that you have available and be kind to yourself. I promise you will find the right fit, just be patient and persistent.