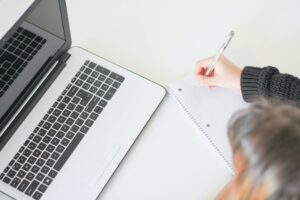 Recent conversations with new college grads revealed a specific, common challenge – how to best expand digital marketing skills without in-person conferences or industry events to go to. 
 While in-person networking and events are ideal for learning and networking, there are still some great alternatives for learning and growing.
 Free Certifications.

 Certifications are a great way to expand your skills and add to your resume without having to leave the house. If there is a particular skill that keeps popping up on job postings that you don't have experience with, a certification is a great way to take initiative to start learning more about it. A few free examples 

are

:

 

Google Analytics

, 

eMarketing Institute

, and 

HubSpot

.  

Webinars and Virtual Events/Conferences.

 Industry events are a great way to network and learn more about the industry, and despite most being moved online due to COVID, there are a lot of great webinars and even some online conferences (many of the big marketing conferences are offering a virtual option if you look at their website) to attend to learn more about a specific or broad topic. Some examples to check for online events or webinars 

include

:

 

Content Marketing Institute

, 

Adweek webinars

, and many 

local chapters

 of industry organizations that have been hosting virtual panels and speakers. 

 

Volunteer Work.

 

If there is a specific skill you want experience in and it's not part of your job or internship, volunteer to do it for a non-profit, small business, or local industry organization. Say you did an email marketing certification and now you want to put it to use and work in an email software, find a non-profit, small business (local restaurant, etc.), or join the board of an industry organization and volunteer to do email marketing (or whatever skill you're looking to build) on your own time. These types of companies are usually very welcoming to any help and it turns into a win-win for both parties. 

 

Social Media.

 Social media can be a great way to connect with people in the industry as well as learn more about the latest news. For example, joining Twitter chats like #AdweekChat which is a weekly conversation about different relevant topics. Another recent example is the new app 

Clubhouse

, where you can join rooms about specific topics relating to the industry (Digital Marketing Society is an example of one room). Also, if you follow industry thought leaders and publications, scrolling apps such as LinkedIn and Twitter daily help to keep you up to speed on news and relevant conversations going on.