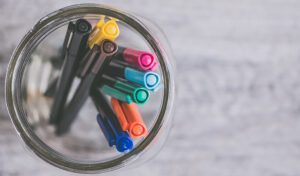 What does it take to develop award-winning creative? Baby steps.
My 14-month-old daughter recently became a walker. Like most babies, she started by pulling herself up on furniture and discovering her legs. She spent months sliding along walls and scooting against stuff – contemplating the concept of walking. Finally, with some hesitation, she took 2 steps and fell on her bottom. She scrunched her nose and got up, only to quickly fall again. By that Sunday afternoon, she was waddling around taking 4… 6… 8… steps at a time. Two weeks later, she's running. Every fall and every step forward received encouragement. Sometimes she let me stand her up, sometimes she would swipe my hand away and want to do it herself – but working together, we reached our goal.
Creative is way more than just making things pretty. It should be strategic and thoughtful. It should be rooted in strategy and have specific goals. The creative process has its ups and downs, but with teamwork and trust – it will meet those goals. Here are five steps to make your next creative campaign a top contender.
The Brainstorm. Creative collaboration is the future. Host brainstorming sessions that involve a network of different minds and experts. Lean on them and listen to them. Encourage honest conversations that allow for ideas to be built on. Trust that the brainstorm will have both slips and steps. Ideation is the most beautiful part of the creative process.
Read, read and read some more. If you work for a company, live your company's brand. If you are working on behalf of a client, live your client's brand. Research the industry. Know what your competitors are doing. Or, sometimes it's as simple as sending a survey out to friend's family. You can never have too much information. It's building muscle needed to have a stronger end product.
Think strategically. Creative is often visually appealing and the "fun" part, but it should always fit into the bigger picture. How does this creative product meet our goals? Does it tell our story? Is it impactful and thoughtful? How does it fit with all strategies – including digital and media relations? How do I get from here to there?
Be a little scrappy. The reality is sometimes you have a beer budget with champagne goals. Don't let low budgets discourage you. Be resourceful, be smart. There's always a way to be impactful. Sometimes you have to fall on your face a few times, but you always keep going.
Remain agile. Every great leader knows, sometimes you have to change course. As a director or manager, know when to get involved and when to let the team drive the project. Know when your team needs constructive criticism or cheerful support. Know when to hold their hand, and when to let them run. An agile approach to your leadership style will help you navigate clients, vendors and internal team members.
Throughout our 32-year history, we have won many awards while developing a creative skillset that lets allow our clients to shine. As creative director (and mom) I'm excited to see people and projects develop, and understand that the best creative starts with baby steps.
Interested in discussing your next award-winning creative campaign? Contact me at rebecca@sweeney.agency.