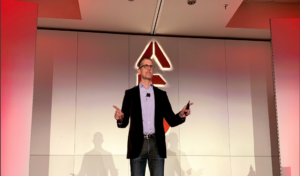 I had the opportunity to hear Daniel Lemin, co-author of Talk Triggers, speak at the AMA High Five Conference in Raleigh, N.C. last week. He really drove home the benefits and opportunity of word of mouth marketing. It all boils down to – in the words of Bonnie Raitt – "Let's give them something to talk about."
According to Daniel, 19% of purchases are a direct cause of word of mouth marketing and 90% of purchases are influenced by word of mouth marketing. Wait… let's repeat that…. 90% of purchases are influenced by word of mouth marketing! So how do you go about creating more positive chatter about your brand?
The secret according to Daniel is to use bold operational differentiators to create positive customer conversations. And in turn – assuming a brand is successful – it can spend less on advertising. Here's how some brands are making this happen.
 DoubleTree Hotel: If you stay at a DoubleTree hotel anywhere in the world, you will find free, freshly baked chocolate chip cookies. Daniel researched this brand extensively and discovered in a 60-day time frame, about a third of the customers talked about the cookies without being asked. Do a quick search for DoubleTree hotel cookies on Google and you'll find the first page of search results are full of copycat recipes! For a simple, cost effective gesture, it is certainly making a big impact.
UberConference: UberConference took a different approach to its hold music. Give a listen here. For those who don't care to listen to yet another conference line's hold music, here's quick preview.
"Well, I've been sitting here all day. I've been sitting in this waiting room. And I've been waiting on my friends, Yes, waiting on this conference call. All alone.

And I'm on hold, yes I'm on hold, I hope it's not all day.
Ay!
Well I wonder where they are. Yes I wonder where my friends have gone (where did they go!).
Tell me where can they be."
The song is written by UberConference's creative director and co-founder Alex Cornell. The UberConference CEO shares in a Fast Company article titled "Finally, Hold Music That Doesn't Suck" the song is one of the company's most popular tweeted features.
The Cheesecake Factory: There is one description you have probably used to describe your experience at The Cheesecake Factory at some point…. the expansive menu. According to Daniel, 38% of people have talked about the menu in a 30-day time frame without being asked. This 6,000-word menu was intentionally created to spark conversations. According to a Business Insider, financial filings for the public company reveal only .2% of its total sales are spent on advertising. Darden Restaurants, a competitor that owns Olive Garden, The Capital Grille, and Yard House to name a few, spends $268 million more a year than The Cheesecake Factory on advertising.
All it takes is the courage to do something different. Find something that aligns with your brand, is natural and not forced or contrived. Focus on different with a purpose.