With the holiday season comes gatherings, gifting, and new holiday campaigns. In late October, the National Retail Federation (NRF) projected that holiday spending in 2021 would rise between 8.5% and 10.5%, an all-time high for holiday sales growth. In early December, economist Jack Kleinhenz announced that spending growth could exceed NRF's previous expectations, reaching 11.5%. The potential to reunite for the holidays and concerns about product availability and shipping delays have transformed the way consumers will be shopping this holiday season. E-commerce growth is slowing as shoppers venture back out to stores. Shoppers are taking advantage of curbside pickup and buy now, pay later options. Gifts like spa days, upscale dining, and concert tickets are returning to wish lists. With the development of COVID-19 vaccines, consumers are returning to the experiences that they missed, with the loved ones they now feel more comfortable being with. As a result, brands are noticing the shift in consumer behavior this holiday season. They are responding accordingly, with holiday campaigns that show the normal hustle and bustle of the season, but reflect upon the previous two years. Take a look at the top 5 holiday campaigns of 2021 below.
Target
Target's 2021 holiday campaign has received high praise for its authentic representation of diversity and inclusion. Building on their "What We Value Most Shouldn't Cost More" campaign, the most recent ad shows a diverse cast coming together for a range of holiday celebrations. The list includes Thanksgiving, Friendsgiving, Christmas, Hanukkah, and Diwali. No matter the culture or tradition, these celebrations share a theme of love, togetherness, and compassion.
Etsy
Etsy's "Give More Than a Gift" campaign reminds consumers of the reason for the season. It is not the gifts themselves, but the sentiment that matters. Each ad highlights a different message. In one 30-second ad, after facing underrepresentation while in line to meet Santa, a son buys his father a stocking with a Santa that makes him feel seen. Another ad shows an unexpected friendship formed at a bus stop and a gift that shows gratitude. A third ad shows a mother and daughter bonding over grandma's recipe, connecting them to their culture and family.
Ferragamo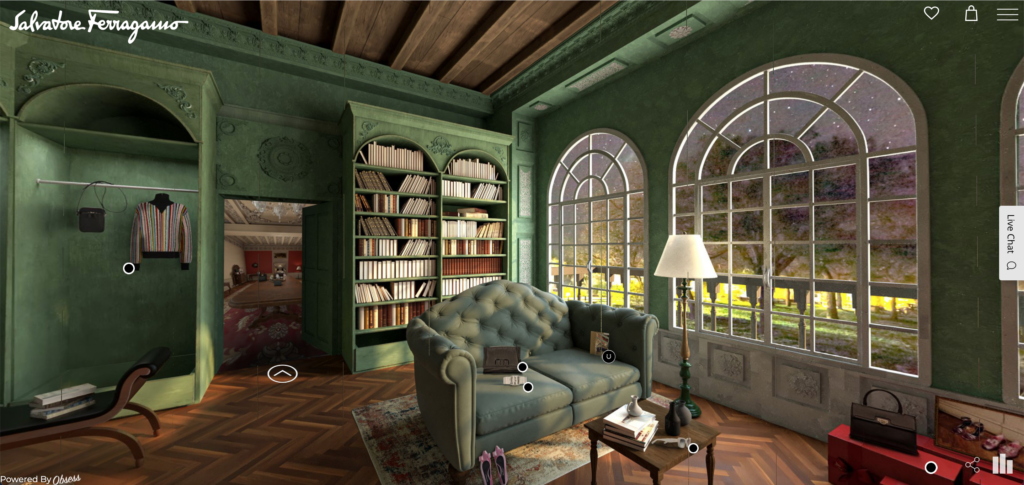 Salvatore Ferragamo's holiday campaign features a short film, Movie O'Clock. The Italian villa shown in Movie O'Clock has been recreated as a virtual 360-degree shopping experience, called House of Gifts. The digital destination allows consumers to meander through the opulent rooms first seen in the fashion film. Style recommendations, gift suggestions, and a closer look at this season's fashion offerings appear as visitors navigate.
Starbucks

Starbucks' 2021 campaign continues the gradual move away from the central theme of Christmas. Rather, the company now favors the more secular theme of gift-giving. Campaign goodies include 27 holiday beverages worldwide, a holiday cookie recipe, and limited-edition holiday blends. In addition, the "Starbucks for Life" game has also made a return. Zoom backgrounds for upcoming virtual gatherings are also available for download. Last but not least, the iconic red holiday cup designs have been revealed. This year, four variations are available. Wintry lilac joins the traditional red and green cup color palette. Each design variation features a space resembling a gift tag, perfect for sharing with a friend or loved one.
UGG
The return of holiday gatherings means the return of gift-shopping for the loved ones who are impossible to buy for. UGG understands this struggle and wants to help. Partnering with comedians Heidi Gardner and Mikey Day from NBC's Saturday Night Live, their 2021 Holiday campaign shows that UGG is your one-stop shop for everyone on your gift list. Gift guide categories include "the proud mom," "the dad who only wants socks," and "the spoiled teen." This campaign is embodied in absurd photography and hilarious video skits featuring one-of-a-kind characters.