With the ever-increasing amount of graduating college students being thrust into the workforce, this summer's job hunt will be a fierce battle for many young professionals. For graphic design students in their final semester this means preparing portfolios, developing an individual brand and honing interview skills.
To all those ambitious folks embarking on their first real world design journey, let me offer some tips that helped me make memorable first impressions and land myself a place in the field that I love.
Prepare a Physical Portfolio
It's no longer about who has the latest and greatest technology but knowing when to put down your devices. You're no longer impressive when you whip out the latest iPad Pro and flip through a pdf or portfolio website. With less designers showing work in physically printed presentations, those that do stand out in the crowd.
What once was the norm is now niche and I fully recommend bringing a modestly sized screw post portfolio to your job interviews. This means designing spreads for each project and ordering the pages to best tell your story. If you choose to print on paper with texture or are concerned with particular colors standing out, you may look into adhering the pages with sturdy hinge strips. For quick swapping of pages and added protection of your work, you may look into placing your pages in thermal sheet protectors.
Tell Stories, Show your Process
Construct a presentation about your work, telling stories about the obstacles you overcame and the strategies that brought you success. When developing a portfolio, make sure to order the projects in ways that most efficiently showcase a variety of techniques, solutions and growth.
Timing is key to keeping your audience consistently engaged. Avoid redundancy by distributing different types of projects evenly throughout the portfolio, instead of layering similar pieces on top of each other.
Don't shy away from including process work. Employers want to see your abilities to take concepts to completion.
Create a Calling Card Beyond Your Business Card
First impressions should last. This is why I recommend creating a piece of branded material to leave behind as a reminder to your potential employer. During all of my interviews, I left behind a designed pin that matches both my business card, website and résumé. By elevating your own personal brand presence beyond expected interview materials, your passion and professionalism are highlighted and memorable.
Custom thank you cards, branded buttons, stickers or even packaging for your business card and résumé can go a long way. Ultimately, once you crush that interview with a stellar presentation and portfolio, whatever you leave behind will serve as the reminder of how cool you really are. It's crucial to send a thank you email post interview, but to really go above and beyond, thank you cards are incredibly important. Mailing a thank you note, especially one you designed, further solidifies your passion, professionalism and overall interest in a position.
Involve Yourself in Local Creative Groups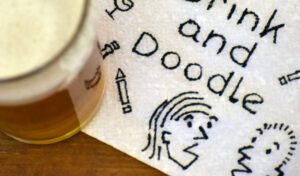 Shortly after graduation, it's easy to experience imposter syndrome, feeling as if you are pretending to be a "real professional". The truth is, every designer faces their first jump into the pool at some point in their life. Your talent is valid.
Driving yourself to become a member of a professional organization, such as AIGA will immensely help you both build connections and give you additional opportunities. Through creative groups, it's possible to involve yourself with likeminded professionals and even find additional career opportunities otherwise not listed elsewhere. Your future employer will be impressed by your ability to immerse yourself in design in and out of your career.
–
There's so much more to achieving that first, second and future design jobs, so look forward to future blog posts where I may share my experiences!