Of course, consumers have changed their news consumption habits during the pandemic. But how? We dug deep into the research to find out.
 We are consuming more news online.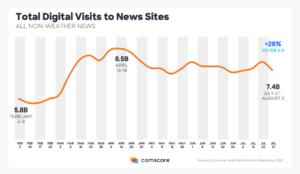 According to Comscore, when evaluating non-weather news sites, "total visits during the pandemic peaked during the week of April 13-19, 2020 with 8.5 billion total visits. Since mid-May 2020, total digital visits to news sites have remained somewhat steady. The week of July 27-August 2, 2020 saw 7.4 billion visits, which is still 28% higher than pre-pandemic levels."
.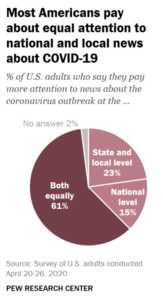 National and local news are getting about equal attention during COVID.
According to Pew Research, in an April 2020 survey, "about six-in-ten Americans (61%) said they were following news about the coronavirus outbreak at both the national and local level equally. Around a quarter (23%) said they were paying more attention to news at the local level, while 15% said they were focused more on COVID-19 news at the national level."
.
We are consuming more TV news.
According to Nielson's Oct. 2020 Local Watch Report, "while consumers 55 and older watch the most news, younger generations have steadily increased their news consumption over the past two years, with consumers 18-34 growing their total TV news consumption by 134% between 2019 and 2020. And viewers 25-54 now spend 4:46 minutes each week watching TV—up about 1:30 minutes from just two years ago. What's more, local news is now the youngest skewing TV news medium, with almost 30% of local news viewers ranging between the ages of 18 and 49."
The biggest question yet to be answered is what will news consumption look like post-pandemic and post-election year?