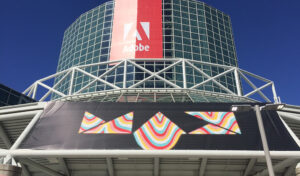 I recently journeyed out west to Los Angeles for Adobe MAX – exploring new technology, speaking with vendors and participating in sessions hosted by incredible figures in the creative industry. I returned to Cleveland with new ideas (and swag) to share.
For part 1 of my key takeaways, I will be focusing on the advice and musings of Tad Carpenter.
Tad Carpenter – "20 Things"
Illustrator, designer and overall creative rockstar Tad Carpenter is a major hero of mine. His studio, Carpenter Collective creates incredible design and branding projects that inspire me greatly. His session, 20 Things, took a deep dive into the many "things" that gives him a love for design, collaboration, storytelling and working in this field. Here are few things that stood out.
Understanding Where You're From – Embracing one's environment influences design. It's not always talent that's enough to create quality work. At Sweeney, understanding our influences in Cleveland and Wilmington strengthens our hometown spirit. Recently we launched Cleveland Animal Protective League's campaign, Love My Cleveland APL. This campaign thrives through the acknowledgement that our client is not only a major force in supporting animals in need, but also stands strong through the love and support from our local community.
Enjoying What We Do – We do our best work while we enjoy what we're doing. We must learn to play and remove limits, exploring stronger creative solutions. Pioneers in our industry make an impact through a balance of creative play with structured business. Tad develops illustrations and other creative depictions of the Sun, sharing on sunday-suns.com. These projects are meant only for himself and showcase the healthy practice of spending time to play within your craft.
Collaborators – Some of the greatest projects are done as a group. Here at Sweeney, we have a small group of many talents. Carpenter Collective's work often involves collaborating both internally and with outside resources. Clients that are willing to take risks find huge successes in unique and powerful final results. Tad's work on the Boulevard Brewing Co. Museum identity and branding is just one incredible example of teamwork and breaking the norm.
Adobe MAX left me feeling energized and ready to continue creating awesome work for the agency. I look forward to sharing more of my findings and inspirations in part 2 of my blog series! Stay tuned!