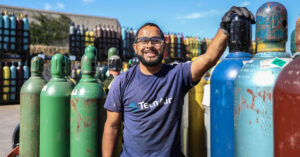 Three years ago, Gasco – the gas industry's leading supplier of precision calibration gas mixtures – tasked us (Sweeney) to rebrand its ecosmart™ product. Gasco is a niche player in the gas industry with a serious reputation for big ideas. It is not a large company or an old company or a fancy company, but from its respectable offices in Oldsmar, FL, founder Tom Hanway and his sons built an amazing business with a phenomenal reputation for quality and innovation. Ecosmart was a perfect example, a gas cylinder that could be returned for re-use instead of tossed into a landfill.
We originally branded ecosmart in 2007, under the direction of marketing manager, Keleen McDevitt and it was received by the industry with great excitement. Unfortunately, nearly a decade later, more than 50,000 of the returnable cylinders still hadn't found their way back home. So Gasco looked to brand marketing again in an effort to raise awareness among the product's many users that ecosmart wasn't just returnable, it was also refillable, which means less cost… and a safer, healthier planet.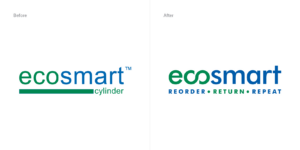 Acquisition #1
Within a year of launching the rebrand campaign, as ecosmart sales soared and the number of returned cylinders increased, Gasco was acquired by Tech Air (Danbury, CT). Myles Dempsey, Jr., Chief Executive Officer of Tech Air, explained that the acquisition would allow Tech Air to continue to build out its Specialty Gas production capabilities, an exciting area of growth for the company. Gasco president Brad Hanway concurred: "Tech Air and Gasco share a commitment to quality, integrity and customer service, which makes this transaction a great fit for our team and Gasco's customers."
Tech Air, founded in 1935, was an established and growing distributor of industrial and medical gases, equipment and supplies. In fact, during just the past several years, Tech Air had acquired more than 25 independent gas distributors nationwide to create a national network of Tech Air companies. But as its focus shifted from being a regional player to competing with the industry's largest providers, Tech Air realized its image was in need of a serious makeover.
Having seen the branding work Sweeney completed for Gasco, Tech Air likewise hired the agency to assess and refresh its corporate brand and help deploy it on a national level. A series of executive and competitor audits revealed truths and opportunities that would take Tech Air to the next level. Like its "big boy" competitors, Tech Air was now a force to be reckoned with. Unlike its competitors, Tech Air was delivering better, friendlier customer service. This was a one-two punch combination that could make an impact.
In short order, the agency modernized Tech Air's existing logo and created a new tagline – Family Service. National Strength. Soon after, a new website was designed and launched, featuring branded images, videos and downloadable literature that introduced the marketplace to the new Tech Air.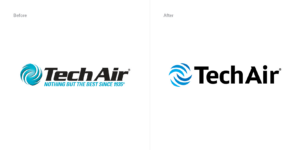 Acquisition #2
Two years later, Tech Air and Gasco were jointly acquired by Air Liquide, a world leader in gases, technologies and services with operations in more than 80 countries. Myles Dempsey acknowledged that Tech Air had transformed itself from a small regional gas distributor and welding supply company based in the Northeast into the broader business. "We have built a great company and we are gratified that Airgas/Air Liquide has recognized the tremendous value we have created."
Pascal Vinet, Chief Executive Officer of Airgas, Inc. and Air Liquide Executive Committee Member, also commented: "The completion of the acquisition of Tech Air is an important milestone in Airgas' development. Tech Air's highly professional teams and complementary distribution network will be strong assets to efficiently serve our customers. We welcome our new Tech Air colleagues to Airgas and the Air Liquide family and now begin the integration process."
Coincidence? Not even a chance.
The branding and brand marketing efforts for both Gasco and Tech Air were significant factors in raising market awareness and establishing these companies as desirable acquisition targets. Of course, the financial and advisory support of CI Capital was also critical to the company's "buy and build" strategy.
In the end, both companies were acquired because they were smart investments – well-managed companies with growing sales and strong profitability. But in the beginning, they were both relatively unknown and unnoticeable. Focused branding and brand marketing efforts changed all that. Together, Sweeney, Gasco and Tech Air created new identities, new branded marketing content and launched new brand campaigns that captured the attention of the marketplace and lead to the acquisition of these two companies.