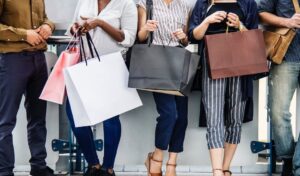 Just when marketers feel they have identified what their audience wants, a new market of buyers have emerged: Generation Z. The Gen Z demographic includes those born after the year 1996, and as this generation is coming of age, their spending power is growing. As consumers, this group has unique ideals where the focus is less about the product and more about organizational values. Here are four types of brands that Gen Z value:
1. Eco-Friendly Brands
Whether it's makeup, a clothing brand, or even a tech company, Gen Z appreciates brands that acknowledge the importance of eco-friendly products and values. With the rising debate of climate change and other environmental matters among us, Gen Z is more aware and interested in the ecological effects of their purchasing decisions. Younger consumers prefer brands who take a stand for controversial matters rather than stay silent. Knowing an organization's values align with their own allows buyers to develop a relationship with a brand and a company as a whole. Eco-friendly brands publicly share their value and communicate them undoubtedly to their consumers.
2. Socially Responsible Brands
Times have changed from when companies did not take a public stance on politics. Young consumers respect brands who are outspoken, and this includes political matters as Gen Z overall is a generation that shares bold political stances. When brands portray the same boldness, consumers develop a level of comfort with the brand knowing they share something in common. Brands would be irresponsible to not these opportunities to relate to their audience, especially their youngest and most impactful consumers.
3. Vintage Style Brands
When it comes to clothing, name brands are receiving less attention from Gen Z, while stores like TJ Maxx and Goodwill are thriving within this generation. Because these spenders devote their brand loyalty most in the tech and food industry, bargain shopping is considered "cool" with clothing and style brands. The idea of self-expression and uniqueness is at its fullest when these shoppers take a trip to generic clothing stores and piece together their own styles. Don't get me wrong, they will definitely swoop in on a quality brand if it is at a bargained price. Gen Z spenders appreciate simplicity in a product so that they can make it their own. For example, shoes like Vans and Converse are timeless because of their simplicity. This is what makes the "vintage" style work!
4. "Postable" Brands
The most valuable quality of a brand for a Gen Z consumer is its shareable qualities. Technology has opened the door to unlimited sharing capabilities and infinite chances to earn "cool points" through creative content. By sharing, they play a part in the brand image itself. Consumers want to share their newest interests, especially those that are contributing to a good cause. This could be putting together a trendy outfit for a bargained price, eating a yummy vegan dish, or using cruelty-free products. As content creators and young activists, they enjoy sharing with others that they are investing in sustainable brands and contributing to the repair of the world.
A question Gen Z might ask themselves would be "does this brand understand me?" These spenders rely on brands that can be adaptable and grow alongside them through this part of their lives. Since they value brands as a whole rather than their individual products, it is important that they can maintain a relationship with a brand like a friend. While embracing their quirkiness, Gen Z enjoys brands that allow them to build a brand of their own.