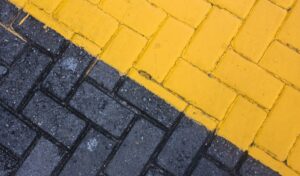 Eighteen years ago, I was selected to speak at my high school graduation. It was an incredible honor – but it was also incredibly daunting. From academic and extracurricular perspectives, I was an engaged and successful student that took those four years seriously – but so did many of my peers. As we were all about to embark in different directions, what insight did I have that would be valuable, memorable and motivational enough to resonate to everyone at a milestone event like this?
As I was contemplating the topic of my first official blog as the newest member of Team Sweeney, something about that brainstorming process took me back to that high school speech. Maybe it's because I'm nostalgic by nature, so any new beginning or end in life usually makes me a bit reflective. Maybe it's because putting your ideas and opinions out into the world, whether you're speaking to an auditorium or posting it across your digital channels, can feel the same way – daunting. Whatever the case, I revisited the theme of that speech and realized that at its core, it's incredibly relevant to how I'm feeling and the types of goals I'm setting for myself at this new stage of my career.
So, to borrow from the spirit of that speech (and one of my favorite childhood movies) let's take a quick trip down the "Yellow Brick Road" and reimagine what our goals might look like when we strip away the corporate speak and follow in the footsteps of the Scarecrow, the Cowardly Lion and the Tin Man.
Brains
Keep in touch with mentors.
I find myself thinking a lot about my mentors these days — probably because I was lucky enough to get hired by one of them. I met our CEO before I graduated college and we remained in touch for 14 years.  Now I'm here to learn from him in person and I plan to soak it all up. That said, it's too easy to lose touch with our mentors during job transitions. Even when our roles and industries change, there's still so much to learn from those willing to invest the time to guide us.
Be endlessly curious.
There are no shortage of places to turn to for continued learning and inspiration in the marketing field – or any field for that matter. I hope to discover even more books, podcasts, influencers, industry events, etc., continue to find ways to apply what I learn and share valuable insight with team members and clients.
Courage
Lead by fearless example.
I read an article recently about what distinguishes great leaders from excellent managers, authored by Bill George, senior fellow at Harvard Business School and author of Discover Your True North.   He explains that courageous leaders "take risks that go against the grain of their organizations. They make decisions with the potential for revolutionary change in their markets. Their boldness inspires their teams, energizes customers, and positions their companies as leaders in societal change."
In my first two weeks at the agency we've already had numerous conversations about our industry's changing landscape and what it means for our company and our clients. Forging a path in this environment can be harrowing which is why surrounding yourself with the right team is so critical. I'm honored to help lead the charge and will try hard to be an example to all involved.
Speak up.
If you're looking for a valuable read, try The Advantage: Why Organizational Health Trumps Everything Else in Business by Patrick Lencioni, which explores powerful ways to make an organization healthy. The backbone is a strong and cohesive leadership team that fosters an environment that's open to healthy conflict. This is a tough one, but it's so necessary for the continued growth of organizations and employees. I've been part of several uncomfortable conversations over the years – sharing and receiving critical feedback and also standing up to superiors when I knew something just wasn't right. Luckily, the hardest parts are usually fleeting, and their outcomes make us stronger.
Heart
Give back.

Find the time to do good. That could mean a trip back to your alma mater to mentor college students. It could mean spearheading an opportunity to volunteer with your coworkers or connecting with a non-profit that would greatly benefit from your professional expertise. Whatever it is, it's a chance to use your gifts for the greater good, and the world can always use more of that.
Nurture those relationships.
In my opinion, this is the most meaningful of the bunch. If I were to draw a map of my career starting from college to present day, the path that paved my way would not be lined with companies, brands, projects, accomplishments or awards – it would be lined by people. I could mark every milestone by those that were with me along the way. When I stopped to think about what's led me from one job to the next, I realized that not one of my positions was actually ever posted. They were new positions that came about as a result of relationships – professors, bosses, teammates, partners and even just professional acquaintances; they've all had an impact.
The work we did together was great, but these days when life refreshes with the swipe of a finger, it can feel like even the greatest work just doesn't have quite the same staying power that it used to. The stuff that lasts are those lunches you set every third Friday of the month with an old coworker, those "catch-up" calls with clients when what you actually get caught up on is life, and the notes of encouragement you get from former bosses that continue to follow you and root for your success.
Sometimes these people will advance your career; but when you're really lucky, the lines blur. They turn into lifelong friends, and they make the places you work feel a little more like home. And as we all know, there's no place like home.