Just last week 1-800-Flowers announced it was the first to launch a storefront on Facebook.  Now 20 more storefronts are in the works according to an article in the Financial Times.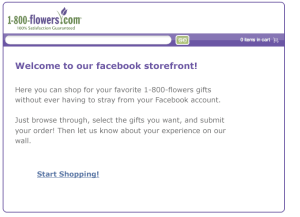 This news has me a bit perplexed.  Facebook is a networking site where 250 million users go to connect with friends, family and co-workers.  Connecting with companies, brands, and non-profits all comes secondary.  This is precisely where storefronts will fall… secondary to connecting and staying in touch with people.
I believe it is highly unlikely consumers will join Facebook or log in just to purchase a product unless of course there is a special deal tied into the Facebook storefront. Why purchase from Facebook when I can simply go to the retailer's e-commerce site and order there?  Especially in the case where I have already created an account on the retailer's site, which saves me time by eliminating the need to enter my shipping and credit card information.
The biggest roadblock is the state of mind people are in when they go to Facebook.  I don't believe any retailer is going to change that mind set.  Retailers might make some sales initially since "mavens" (according to The Tipping Point by Malcolm Gladwell, people who have market influence and do things before they become popular) will want to try it just because it is new.  However, my prediction is the cost and manpower to run the storefront will not be worth the investment.