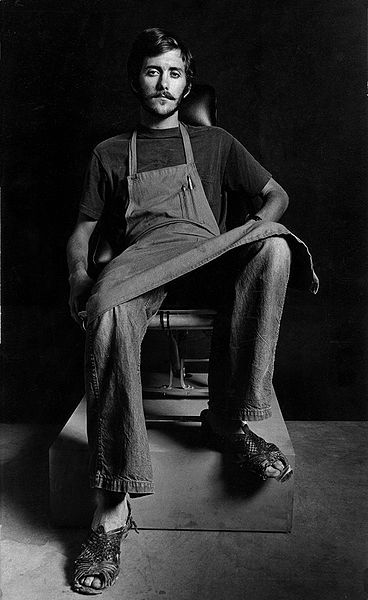 Look at this guy; even he knows he is cool.
This is the face of American entrepreneurialism at its very best.
Ron Rezek is an industrial design rock star. Perhaps best known for his contemporary light fixtures and ceiling fans, the likes of which make you weak in the knees.  Like all great entrepreneurs – American and otherwise – Ron Rezek set no boundaries for himself.
While still a grad student at UCLA in 1970, he designed a lifeguard rescue device that is still in use today.   He then turned his attention to decorative light fixtures and later started in on the ceiling fans.  His designs broke barriers and offered relevance for commercial and residential applications alike. He earned degrees and took chances and won awards.
Best of all, rock star Ron Rezek didn't just design stuff, he made stuff.  He held patents for design and mechanical innovations. He created businesses and made them flourish… companies like Ron Rezek Lighting and The Modern Fan Co. and the Period Arts Fan Co.
You perhaps never heard of Ron Rezek, but you likely read about him or saw his work – in movies or on TV shows or in books and magazines – and you just didn't know it.
Ron Rezek is the stuff of modern legend.  He is a 21st century cowboy. And he is still riding tall in the saddle (or maybe he is riding a wave on his surfboard)… Either way, he is making our world a much cooler place.
Thank you Ron… you rock.