Reading my February Glamour, I learned about a great beauty product… Neutrogena Sugar Scrub Body Exfoliator. I made a mental note to get it the next time I was out.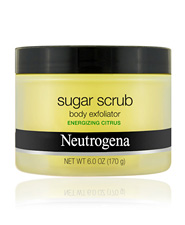 This weekend I found the product at Target in the beauty section. While deciding if the $9 investment was worth it, a woman came up and started looking at the same product. She told me the sugar scrubs (although she hasn't tried the Neutrogena brand) were amazing and that she hasn't had to use a moisturize all winter long because the scrub did an excellent job of exfoliating her skin. She even rolled up her sleeve to show me!
Since purchasing the product, I have used it a couple of times and both Glamour and my Target friend were right! It is an amazing product. It is gentle enough that it doesn't make your skin red like loufas (which I rarely use because they are very uncomfortable) and I haven't had to use a moisturizer either.
According to the directions it is gentle enough to use daily. The directions do mention that it can make your shower slick. I have found my shower develops a film on the floor; however, not enough to worry about slipping.
The only downfall of the Neutrogena Sugar Scrub is the citrus scent could be a little stronger. It certainly isn't enough to wake me up in the morning.
All in all, I would recommend every women try the sugar scrub. According to Glamour, it is much cheaper than a sapphire body treatment valued at $3,000, but delivers similar results!