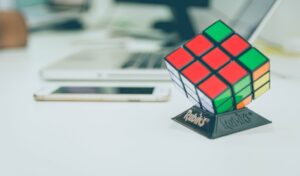 Either it's a very exciting or terrifying time to be in the marketing and public relations industry depending on how to you look at it. Our industry is changing significantly and at an accelerated rate.
Digital continues to become more and more important when targeting any B2B or B2C consumer. Technology is expanding our communication channels, including artificial intelligence, voice assistance, wearables, etc. The corporate c-suite wants marketing to show a profit on the P&L statement rather than an expense, but our industry isn't quite there yet with how to holistically prove marketing's ROI. And that's just the tip of the iceberg.
"Marketing has fundamentally changed from marketing to publishing, and the pace and turnaround is so much faster," shared KFC's global CMO Jennelle Tilling.
Mattel's marketing leadership agrees digital is king. "It's been a real shift in moving away from traditional methods of communication to having a digital first mindset. Digital has become so synonymous with how we operate that it's like the air that we breathe," said Juliana Chugg executive advisor for Mattel.
And measurement is critical. "If you cannot measure, you cannot change. It's that simple," stated Mukul Deoras, CMO of Colgate-Palmolive.
Marketing professionals can select their own destiny. We can put the blinders on and operate in the past by spending months to produce one piece of content, tracking results by impressions and likes and only assessing our marketing strategy once a year. Or we can seize the opportunity to help drive marketing forward for our brands and the industry at large.
But what will it take to be a successful marketer and public relations professional in 2019 and beyond?
Be Observant
Technology is advancing at a rapid rate and the way consumers interact with technology is as well. This requires being observant all the time rather than specific times throughout the year. Pay attention to everything from watching consumer behavior around you in your everyday life to tracking your customers and prospects behavior, your competitors and your industry at large.
Be Curious
Ask yourself and the people around you lots of questions for the sole motive of learning more. The benefits can be huge, helping you to expanding your view points, cultivating new ideas, introducing a new way of thinking and just having a better understanding of how things work.
Be Flexible
Know when you need to stay the course and continue testing marketing strategies, but be willing to change your plan when the results are not meeting expectation. One of the benefits we have today is a plethora of data to help us make decisions. Use it to your advantage.
Be Results Focused
This really starts with documenting measurable goals. What is your current brand awareness levels, how much do you need to increase that by and among whom? How much do you want to increase sales? What services or products do you think will drive the growth and among what target audiences? Once you have defined your objectives, it will be much easier to determine the tools you need to measure success. The benefit of real time data is you can adjust your strategies to help you accomplish your goals in real time.
Be A Generalist
The traditional and digital tools we have in the marketing tool box are vast from publicity and media relations to email marketing, social media, trade shows, SEO, video and much more. It is critical to have an understanding of what strategies and tactics will help you accomplish your goals. Equally critical is how to take one message and adjust that message across all your internal and external target audiences, as well as across all your traditional and digital marketing communications channels. Being a generalist with versatile skills helps you see and understand the bigger communication picture and better maximize your content across all traditional and digital platforms.
It is an extremely exciting time to be part of the marketing industry. Marketing now has a more critical seat in the c-suite as we prove marketing's ROI. Seize the moment to move your company and the industry at large forward.