We often receive phone calls from production companies looking to feature our client's products or services in a television show. The television show name is typically very similar to a popular national show. The pitch is fast and furious, and there is typically a very short timeline involved. For whatever reason, these companies tend to be located in Florida.
The pitch typically includes an audience reach of billions of households through cable or public television. And the more digging and questioning you do, you will eventually discover there is a $20,000+ price tag to cover production costs.
So how do you determine if this is a legitimate media opportunity or a video production company scam?
1. Inquire About Associated Costs: This is the first question you should ask. If it is a true media outlet or legitimate TV media opportunity, there will NEVER be a cost involved. Sometimes TV shows or news shows will ask for product to giveaway to the live audience, but NEVER cold hard cash.
Certainly there are legitimate TV show sponsorship opportunities you can tap into to promote products or services (e.g. Coke on American Idol). But these advertising representatives typically do not have to go hunting for sponsorship opportunities or use pushy sales tactics.
2. Ask Where the Segment Will Air: The model used by these production companies includes submitting the show or segment to cable TV or public television. However, the problem is there is no guarantee the show will ever air, and even if it does, there is no way to track results.
3. Ask to See a Sample: Immediately viewing other projects the production company has completed will quickly tell you all you need to know. They are typically not very high quality.
4. Ask for a Case Study and Referral: If you still need more data to determine if this is something worth considering, ask for a case study that highlights the TV placement. Also, reach out to past clients who have participated in their show or segment.
5. Contact PBS or the Cable Networks to Confirm Distribution: In fact, PBS actually addresses these types of situations right on their website. See the image below.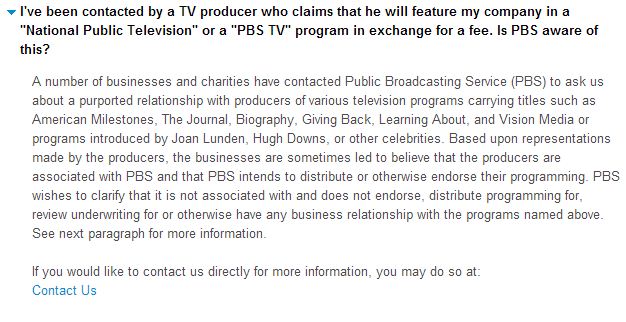 6.  Contact the Better Business Bureau and Conduct an Online Search:  If there is still question, contact the BBB and see if the company has any complaints logged or if they are rated.  Also, conducting a quick online search using the production company's name and the show will typically provide results.
Certainly there is value in using video to promote your company, product or service, but be sure you know what you are getting before you sign on the dotted line. If you are looking for a legitimate video producer then I recommend Kestum Bilt video production.