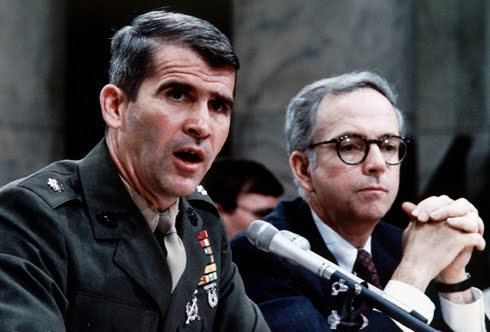 Back in the last century of the last millennium, there were these Iran-Contra hearings to determine if it was true that Lieutenant-Colonel Oliver North actually participated in the sale of arms to Iran.
It was a big political scandal that prompted lots of politicians and news hounds to point accusatory fingers at a lot of people. But Ollie North was the main subject of their finger wagging.
Of course, Ollie wanted nothing to do with the whole hearing and did his very best to avoid answering every question. And somewhere in the middle of this C-Span moment – exhausted from chasing the artful dodger around the room – some senator or congressman looked down at North and reminded him that the great thing about telling the truth was that you never have to remember what you said before… because the truth never changes.
Anyway, I read this blog post in Ad Age today about branding. In it, Jonathan Salem Baskin (global brand strategist and author) suggests the following: "CMOs shouldn't spin or parse the truth."
Really? Do you need a global brand strategist tell you that? Are you that simple? But wait, there's more.
Baskin goes on to say, "Perhaps CMOs would get a better seat at the executive table if they stood up for doing the right thing when nobody was looking."
Wow! I am speechless. The implications of this statement are pounding in my ear like the sound of 50,000 vuvuzelas. Either Baskin is an idiot or our industry is bankrupt of any intelligence or morality.