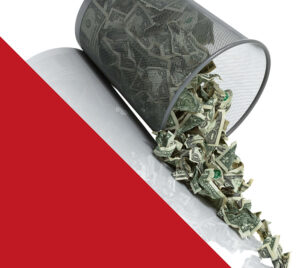 CMOs and their marketing staffs are under an increasing amount of pressure from the C-suite to perform at a higher level and add to the bottom line. At the same time, marketing budgets are on the decline. According to Gartner's 2017/2018 CMO spend survey, marketing budgets have declined to 11.3% of the average company's revenue from the 2016/2017 peak of 12.1%. The implication is clear: the inability to directly tie marketing expenditures with the bottom line has CFOs cutting marketing spend.
CMOs have long-faced big issues demonstrating direct, tangible results of their efforts, and even digital efforts are coming under fire. This summer, for example, P&G slashed digital advertising budgets by $140 million. According to P&G, it "temporarily restricted spending in digital forums where our ads were not being placed according to our standards and specifications." Additionally, CFO Jon Moeller noted there was a broader effort to eliminate "a significant amount of waste" in the digital media supply chain, according to Adweek.
Not to overstate the obvious, but strategic planning – supported by exceptional execution – is the key to increasing ROI and proving marketing can produce tangible results. In addition, the ability to be objective and transparent are equally essential.
Think about how difficult it is to admit you are moving in the wrong direction; and you cannot always rely on your support staff to see or tell you the truth. Employees and vendor partners are working incredibly hard to report positive results for campaigns and prove their worth. And we all know numbers can be interpreted multiple ways.
Three Pillars of Strategic Planning Success
Regardless of the challenges, there are ways to achieve objectivity and transparency and enhance your strategic planning process.
1. When evaluating the results and ROI of past campaigns, encourage employees and vendors to share the true state of campaigns. If they know the results are not directly correlated to their KPIs at least for this exercise, they will likely be more willing to objectively report data and assessments. Keep the focus on applying results from past campaigns to develop best practices, and apply learning to enhance future campaigns. Every day is a new opportunity to make progress.
2. Ask your employees and vendors a lot of questions. Ensure everyone clearly understands the strategies, the expected results and how that data is being reported. As an example, I again reference P&G's biggest concern with programmatic ad buying – invalid traffic where bots rather than humans click on websites. It is estimated the loss in ad spend due to ad fraud was $7.2 billion last year, and it is projected to reach $16.4 billion in 2017. Clearly more questions need to be asked as to where and how marketing dollars are being spent… and what tangible results they are delivering.
3. Use an agency or consultant partner to support your strategic planning process. They can provide objectivity throughout the entire planning process – from reviewing data to developing and refining strategies, and assessing results. An agency or consultant is in a unique position to provide an unbiased assessment of what is working and what is not. Additionally, they typically are not influenced by internal politics and past campaigns.
CFOs expect their marketing counterparts to be good stewards of the company's budgets – regardless of their size. Achieving transparency and objectivity in the strategic planning and assessment processes is key to developing and executing marketing initiatives that get results… and support the bottom line.
For more than 31 years, Sweeney has supported strategic marketing plan development from annual marketing plans to campaigns, product launches, grand openings and more. Contact me at Jennifer@sweeneypr.com to learn more.