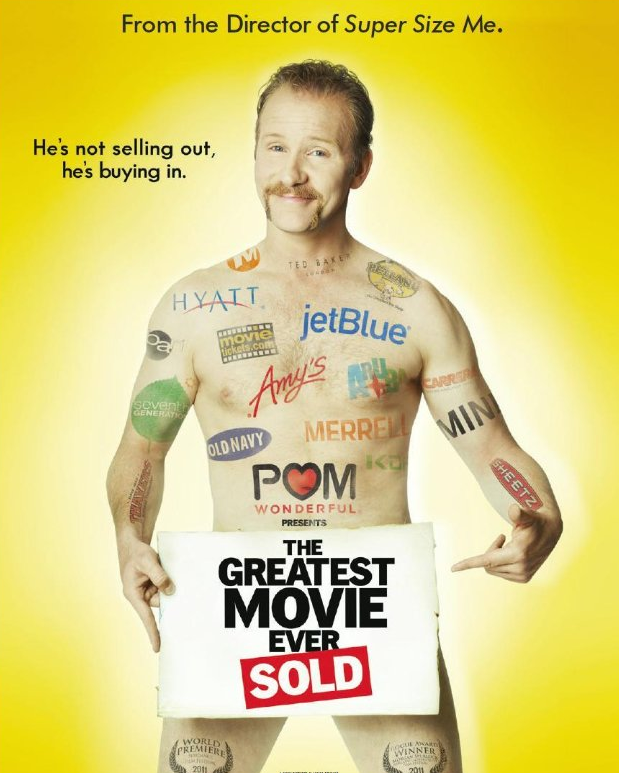 Not that anyone will ever see this film or even care… it is worth reporting that Morgan Spurlock has now done for the branding and advertising community what he previously did for the fast food industry.
Thanks?
Though not due for release on DVD until August 23, The Greatest Movie Ever Sold was released domestically at theaters back in April.  The production  budget was $1.8 million and box office receipts to date are $636,928, meaning not a lot of people have seen it yet.
Thanks?
It is, in a sentence, "A documentary about branding, advertising and product placement that is financed and made possible by brands, advertising and product placement."
A staggering 82% of the people who saw it gave it a rating of A or B, and Peter Travers of Rolling Stone magazine says: "I'm buying into Spurlock. As ever, he makes you laugh till it hurts."  I say, "It is a riches of embarrassment."
As a movie fan, I love it.  As a tenured industry insider, I must admit that the my laughter was eventually replaced by muffled cries of sadness.  In his own entertaining way, Spurlock manages to shine a light on all the worst that exists in our business, surprising even me at times.
Thanks?
[Editorial Disclaimer:  Though I did not sponsor this film with product placements, I nonetheless highly recommend it.]