This past August I wrote about Gap getting back to the basics with their denim jeans campaign.  Apparently, that is just what Gap needed.
After struggling financially for the past few years, Gap posted a profit last quarter and it is attributing it to focusing on its roots (of course cutting costs was part of the strategy as well).  It certainly seems that Gap took the right approach especially with fashion trending towards everything denim this spring.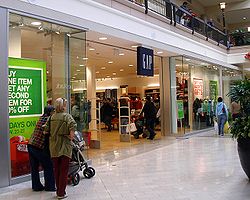 In addition to its focus on denim, the Gap also redesigned it stores with a clean new look, making it easier and faster for customers to find what they are looking for. And they did their research too, and determined the best way to target women is to put the jeans closer to the fitting rooms.  The secret for men is to display mannequins with outfit suggestions because men rarely try on clothing.
How well do you know your customers?
Fun Gap Facts
Gap was founded in 1969 when its first store opened in San Francisco.
The store was named "Gap" after the generation gap of the 60s.
Gap has 10 miles of store front windows across the country.
In the early 1980s, Gap was the first retailer to display clothes folded on a table, which they say encourages more sales when customers can touch the clothing.
Gap now has more than 1,000 stores in the United States.