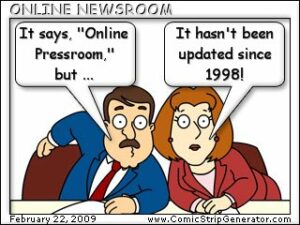 According to a study recently released by Bulldog Reporter and Business Wire, about half (48.4%) of corporate communicators have an online newsroom, and an additional 13% intend to develop one in the future.  The study also revealed the single greatest challenge with online newsrooms is a lack of resources to keep it updated.
The good news: you can develop a very effective online newsroom without devoting too many resources. Below are the top six components that make an excellent newsroom – one that engages media and requires minimal resources to maintain once up and running.
1. Separate News from Media Coverage: Including recent media coverage in a newsroom is a common mistake.  Consider the newsroom's target audience – journalists looking for information to develop their own stories.  Limit your newsroom to resources for media, and package your amazing media hits in a separate section on your website.
2. Highly Visible Media Contact Information: Include who to contact and how to contact them (via phone, email, snail mail, Twitter, LinkedIn and Facebook) at the top of your newsroom.  If your company has different contacts for different divisions, or a separate investor relations specialist, be sure to include all points of contact.  The quicker media can find the person they need to speak with and the less barriers they have to reaching that person, the more likely you are to land coverage.
3. Media Kit: Your newsroom should have a section featuring all updated media kit materials – documents that provide access to background information about your company, products, services, corporate leadership and any pertinent financial data (if a public company).  It is also very useful to provide unique descriptions of each product/service your company offers that media can easily digest.  Each piece of the media kit should be downloadable or accessible directly on the website – to meet all media preferences.
4. Video: With media looking for multi-media content for their websites, video can be a powerful tool.  Examples of useful video content include: behind the scenes product development, product assembly/instructions and case studies.  Even better: providing embeddable links and downloadable b-roll footage can also add great value to a journalist.  Just be sure to avoid sales and human resource videos that are better tools for targeting audiences other than media.
5. Image Library: Organize photos of all relevant product, application, corporate locations, corporate leaders as well corporate logos in one location.  Offer media both high and low resolution versions of each image, and be sure to update with new photography as new products are introduced and corporate leadership renews.  Be sure to provide photos both as downloadable files or with the option to view online.
6. Press Release Archive: News is a critical element of your newsroom.  Archive all recent press releases by providing links for media to access or download previous news releases in their entirety, including release date and proper contact information.