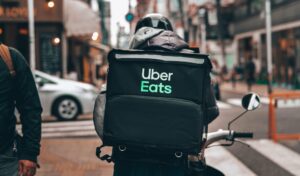 "What about trying the new wing place?"
A conversation with my neighbor over where to order dinner started like that.
"What new wing place?" I answered.
I tend to zero in on new restaurants, and that one had escaped me.
We tried searching for it, with little luck.
No website.
No social media presence.
It wasn't until my neighbor remembered a food delivery service she uses that the mystery wing restaurant became unmasked.
Well, sort of.
It turned out – after more searching – the place wasn't really a "place" at all.
It was a ghost kitchen. A virtual, invisible restaurant branded to feel like a local mom-and-pop, but with no storefront, delivery-only service – and often from the kitchen of a large chain restaurant.
And that name "ghost kitchen" fits, because these emerging restaurant brands are hard to spot. And while the best are friendly ghosts, others can be, well, a little frightening. At least from a marketer's perspective.
Take Pasqually's Pizza.
Sounds like a classic, Italian neighborhood place, right?
Except that "local pizzeria" actually delivers straight from Chuck. E. Cheese.
And at first there was no sign of the iconic mouse anywhere. You had to really know your Chuck E. Cheese trivia to know that Pasqually was one of the brand's characters who appeared in the 1980s.
It was all tracking under the radar, one would assume, until an outraged Reddit user struck last spring. Add that online outrage to everything else that went down in 2020.
And while the company tried to frame it as a more "premium" pizza, the brand damage had already been done.
Applebee's managed to be both local and generic in naming its "Neighborhood Wings" concept through delivery services last year. The full name adds "by Applebee's" onto the end but often did not appear in search results or on certain delivery platforms.
As best I can tell, they're Applebee's wings – which, according to the company are a top-selling menu item.
Wings must be a thing during the pandemic, because Chili's did something similar with its "It's Just Wings" brand.
Ever heard of Tyga's Chicken Bites? They're oven-baked boneless chicken bites branded by rapper Tyga.
The business model involves offering restaurants a way to increase sales by leveraging their kitchens with a "turnkey, celebrity-backed, delivery-only brand."
In Northeast Ohio, Tyga Bites appear to come from the kitchen of Buca Di Beppo, the chain better known for family-style Italian.
Look on a delivery app and you'll see the subtle tagline "Crafted by Buca Di Beppo" under it.
The idea here is that customers using online delivery services sometimes search for products more than they search for restaurants themselves.
There's also a business case for helping struggling restaurants earn a little more off underutilized kitchens.
And for local restaurants, ghost kitchens can provide an easier way to enter the market without as much overhead – especially during the pandemic.
But there are big risks for brands here, too.
Consumers seek transparency, especially when it comes to their food. If they don't feel you're being authentic about where that food originates, you could face big backlash.
And quality control with delivery services can be challenging enough. Trying to run a ghost kitchen in tandem with a known kitchen could end up compromising both brands on a bad night.
As anyone in the restaurant industry knows, one bad experience can lead to a crippling review if it finds an audience online.
It's understandable to try and grab a bigger slice of the pie, if you will, especially given the challenges the restaurant industry has faced in the last year.
But beware. If you're an established brand suddenly inclined to embrace the idea of a ghost kitchen, it might be worth a closer look at your core operation.
What about rebranding an existing offering? Doing some new product development? Capitalizing on what should already be a brand strength, or leveraging innovation to strengthen an existing brand that might need it?
And if you're a local, maybe think about kitchen-sharing with another local instead of simply running a ghost kitchen. You could co-promote and help build one another's brands while keeping your costs down.
The delivery economy will likely be accelerated because of the pandemic, so delivery-only restaurants could become the digital version of a food truck with their specializations and limited menus.
But, like food itself, making these brands appeal to the customer will be all in the execution.