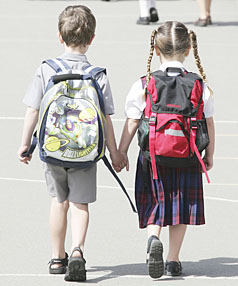 Wouldn't it be awesome if our biggest concern regarding school-age children was the weight of their backpacks… or the amount of time they spend on the Internet?
Unfortunately there is much more to worry about.
For example, the CDC estimates 173,285 sports- and recreation-related traumatic brain injuries, including concussions, among children and adolescents are treated in U.S. emergency departments each year. This does not include the hundreds and thousands of brain-jarring incidents that never get reported.
Here's my favorite topic:  Until 2004, the nutritional guidelines for the National School Lunch Program hadn't been updated in 15 years. During that time, obesity rates among children skyrocketed. One-third of American children are either overweight or obese, with rates of diabetes and other health-related issues also showing dangerous increases. And guess what, children receive about 40 percent of their daily calories from school lunches.  As for the remaining 60 percent of their calories, take a hard look in the mirror.
And then there is this…
National statistics recently released by the United States Department of Justice indicate that one out of three girls and one out of five boys will be sexually abused by the age 18. And while it is likely (according to multiple recent studies) these numbers are exaggerated, even 1 out of 100 is one too many.
Anyway, here's the thing:  our children are our future.  As a former child and a current parent, I know how hard it is to make it through life unscathed.  But we have to try our hardest to do our best.  Watch over the children, love them and protect them.  And oh yeah, especially this week, take time to be thankful for them.