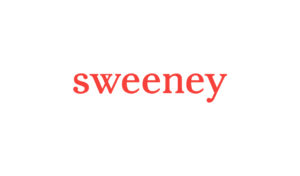 To know me is to know that I rarely take time to boast about our agency's past or our present, but instead am typically consumed with what comes next. This is the exception to that rule.
For more than three decades, Sweeney has forged a unique and consistent identity in the agency world. Eventually, that identity became our reputation, and then that reputation became our brand. We were and still are, the agency that makes things happen. That's not to say we are all business and no fun, but we are definitely more likely to get caught doing research or conducting a media tour than playing ping pong or riding a skateboard through the office halls. We get our thrills from great results… and winning the occasional award.
We are dedicated to learning and exploring and innovating. And we love taking calculated risks, but only after we've argued about them for the better part of the day. That's how we roll. We love marketing. We love the potential of what it can do, and we love not knowing what is going to work until after we've thoroughly examined and vetted every single opportunity. And we own it.
Through the years we have conducted hundreds and hundreds of retail grand openings – for The Wholesale Club, Price Costco, Walgreens, CarMax, Shake Shack, Joann Fabrics and on and on – and I can assure you that no two were ever the same, but they were all successful. Different years, different days, different times, different locations, different people, different media, different goals, different consumers… everything changes everything.
And we have never been limited by a short list of services that we are particularly good at or that we know to be particularly profitable. Our preference and process are to approach every single client situation as being unique and special. And our goal, once we know that situation, is to determine the best possible strategies and creative to achieve the client's mission. It may be branding, it may be advertising, it may be social media, it may be publicity or it may be a combination of things. But we never know until we get there. And even then, we keep an open mind.
The thing is, back in 1986, we (I) thought we would be a great PR firm, not a great marketing agency. But just six months into the new business, we were knee-deep in market research, branding, advertising, product packaging, events, literature and more. Because that's what our clients needed. So we immediately expanded and evolved our POV and our service offerings. We hired and trained incredibly bright people who possessed a wide range of specialized skills, including media planning and buying, search engine optimization, technical writing, video production, graphic design, social media, web development and more.
The agency has grown steadily in size and stature and locations over the past 30 years. And today, we continue to add new people, new technologies, new processes and new ideas to effectively service new clients.
Yet, here we are, the fullest of full-service agencies and our URL still read sweeneypr.com. Oops!
In short, we were long overdue for a makeover; 32 years to be precise. And here it is. Like our agency of amazing people, it is bright and fun and full of promise. It accurately reflects the true nature of who we are and our endless and authentic passion for the business we have created and the clients we serve.