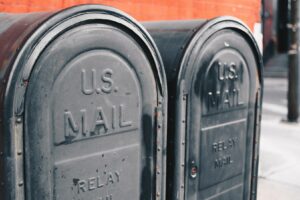 Working at home full-time, I no longer have the welcomed break of co-workers stopping by to chat or meeting at the water cooler for an impromptu discussion. These days, one of the only daily visits we can count on is our mail carrier and occasionally a visit from our UPS or FedEx driver. That's why yesterday I was very excited when our mail carrier came by and delivered my monthly IPSY bag.  
 For those of you who aren't familiar, Ipsy is one of the thousands of different subscription services. In fact, according to Gartner, 75% of all companies that sell to consumers will offer some type of subscription service by 2023. Ipsy is a subscription service for beauty products, but you can pretty much find one for anything from pet toys to razors and everything in-between. Most of them charge a monthly fee and in return, you get different products personalized and delivered to your door. 
With so many people staying home during COVID-19, it is no surprise that a recent subscription survey showed 22.5% of companies are seeing their subscription growth rate accelerate. But why are subscription services proving to be so resilient? As someone who has been a subscriber to three different subscription services, here is what I think:  
Personalization

 – People love having products personalized to them (or their pets or kids if the service is for them) and a lot of subscription services start by having you take a quiz or fill-out a survey so they can personalize your box or bag to you.  Then, each month you

 a

r

e

 asked to provide feedback on the app or website so that over time they start to get a really good idea of what you like and don't like. Personally, all three of the subscription services I have used have done a better job of giving me a personalized experience than I have ever gotten in a store. 

 

Cost 

–

 

Most

 subscription service boxes end up saving you money

…

that is of course if you like what you are getting. For example, with 

Ipsy

, I

 can 

try different beauty products before investing in the full bottle and wasting money

 on products I don't like

. With Stitch Fix, I was given a discount if I bought the whole box of clothes, with HelloFresh they give you the exact amount of ingredients you need so 

leftover ingredients don't go to waste as they often do when you buy ingredients for a recipe at 

the store. It

's

 also makes budgeting much easier when you have a fixed cost for the subscription. 

 

Testing 

– 

One of my favorite part

s

 of the boxes is trying new brands, foods, products, etc. that I may otherwise not have tried. It's hard to get consumers to switch

 once they find 

one

 they like, so this helps give people a low-cost option to try new brands 

or 

products. Personally, I have added new beauty products I never knew I needed in my routine and have switched out brands I was once very loyal too. 

The best part? You don't even have to leave your house or spend the time researching what brands or products to try…you just open the front door and the unboxing experience awaits. 

 
Personally, I am excited to see which brands jump into the subscription box service industry next. I am also curious to see how this growing trend translates to companies that have not yet jumped into the fray, including B2B companies. Subscription services are a viable alternative to hourly rates, cost of services, retainer fees and other traditional pricing strategies. But equally important, they are an alternative methodology for creating product and service discovery, trial and conversion.
Whether you pick a box that contains products from one brand or a bag of products from all different brands, you can't deny the excitement of getting that fun piece of mail each month.