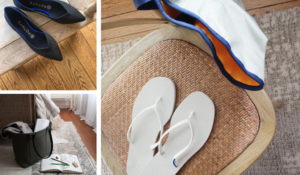 The progression for many consumers of one of my favorite brands generally goes something like this:
You like Rothy's.
You love Rothy's.
You become part of a hyper-engaged online community revolving around Rothy's where members track shipments, decode product launches and generally obsess.
For the uninitiated, Rothy's is all about stylish, sustainable footwear. Handmade from recycled single-use water bottles using a 3D knitting technology, the company strives for zero waste.
Sold mostly online and in a handful of retail locations, Rothy's shoes come in a handful of silhouettes and a variety of color and patterns. Recently the brand launched a new line of sandals, along with handbags that are a blend of its signature thread—spun from water bottles—combined with marine plastic collected within 30 miles of coastlines and marine environments.
The environmental hook often attracts customers' interest, and the experience keeps them. The shoes have a nearly universal endorsement for comfort. And they're even fully machine washable.
The brand exploded after Meghan, Duchess of Sussex, was seen wearing a pair of Rothy's black point flats during a trip to Australia in 2018. That particular pair retails for $145, a price tag accessible for those who literally wanted to follow in her footsteps.
Since then, Rothy's has continued to expand its product line and attract a following of extreme brand enthusiasts. These customers, which affectionately refer to themselves as "Rothy's Addicts," have formed a tight-knit community in private Facebook groups where they engage in 24/7 chatter regarding the brand's latest and upcoming new product launches; swap Rothy's outfit of the day photos; and buy, sell and trade their shoes and handbags. Rothy's regularly retires colors and patterns, so a rare pair of shoes (or "unicorns" as they call them) can fetch up to four times the original sale price.
It's a community that's so entrenched in the brand that some of the commentary you'll see in these groups is almost unbelievable. For example, one "addict" somehow had access to track the brand's shoe shipments from China to the United States. She knew about how large each shipment was, so when she noticed that one arrived that was not the usual size, she sounded the alarm that the brand would likely be debuting a new product line in the near future. And guess what? It did. Another member with coding abilities has shared links to new products before they went live on the website.
Following these private Facebook groups as both a brand enthusiast and a marketer is a pretty fascinating experience. It's obvious that there are Rothy's employees (or moles as the group members call them) that have joined to listen in on these conversations and keep a pulse on brand sentiment. Below are a few ways the brand has acted upon the reactions of its devoted private social network.
More creative product launches
Because it's hard to keep a secret in this community of style sleuths, Rothy's has come up with some unique ways to debut products. For example, as a tease for the launch of its handbag line, Rothy's temporarily archived all its Instagram photos and replaced them with a multi-photo collage grid that formed the picture of a coastline. Followers speculated that the brand was hinting at a new color palette for its shoes, when actually the photo was a nod to the marine plastic that it incorporated into the construction of the new bags.
Addressing backlash
Rothy's has come under scrutiny for how it handled a number of recent social and world issues, including a product launch during the week that George Floyd was killed along with the release of a rainbow sneaker for Pride Month that did not contain all the colors to accurately represent the LGBTQ+ community, or provide a charitable giveback from its sales. Rothy's was quick to issue apologies and try to rectify the situations. In response to complaints that the brand was not stepping up adequately for COVID-19, it created a generous discount program for first responders and medical personnel, a perk that was previously only available for teachers.
Expanding exclusivity
The San Francisco-based business started online, and then for a while operated just one physical store. It has slowly started opening more brick and mortar locations in select cities. As a way to pay homage to its headquarters, Rothy's has occasionally released merchandise exclusive to its San Francisco location. Angry Rothy's Addicts that do not have access to this merchandise have continually voiced complaints, and now Rothy's has initiated a new program that releases small batches of exclusive merchandise for sale only on Instagram. This method of social media selling makes these limited-edition pieces more accessible while also boosting their following.
Influencer effect
The Rothy's Addicts private brand groups also provide a new takeaway about the power of influencers – that it's not always about the ones with the most followers, but the right ones.
It takes just a matter of minutes for someone in the group to notice that Rothy's has added new merchandise to its site. This person might have a very small personal following, but a post by that same person in the news feed of the private group will attract so much attention that it has a history of crashing the Rothy's website.
Additionally, Rothy's will often release a new color or pattern that is not initially popular. In fact, the feeds in the groups will fill up with criticism, and it makes you wonder if that item will be a total flop. But then a group member will take photos of the item styled in real life and you'll immediately see people commenting that they were convinced to make the same purchase.
While it's clear that Rothy's will listen and react to the group's feedback, more could be done to acknowledge a population that talks about and obsesses over your brand on a daily basis. They should be rewarded for their loyalty, perhaps by extending an exclusive discount program to followers or giving these groups the inside scoop on certain exclusives or launches. I'm willing to bet that the power of one conversation in a private brand group of 20,000 dedicated followers generates a higher sales volume than a post by an outside "influencer" with an unengaged following of 200,000 people.
In the marketing world, we talk a lot about social listening. Digging into private social media groups takes that practice to a deeper level. But even if your brand does not have that underground community, there are still plenty of insights about your industry, customers and competitors to discover through social channels. Let us know if you want to start doing some eavesdropping.