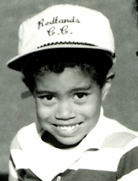 Hi, I am Tiger Woods, the greatest golfer who ever lived. I really screwed the pooch – literally and figuratively. I embarrassed my wife and my family and my fans and the PGA. I am sorry, please forgive me. Let's play golf… and just leave me alone.
Hi, I am Billy Payne, chairman of the Masters. I am ashamed of Tiger Woods. You disappointed me and everyone else. You are not a hero. The future will never be the same. Let's play golf… and make sure Tiger is teeing off late in the day so we can get some great coverage.
Hi, I am Earl Woods, Tiger's dad. I am dead; yet somehow I am on a new Nike TV commercial. Tiger, I am curious… did you learn anything? Let's play golf… or you're history.
Hi, I am Nike, a global marketer of athletic footwear, apparel and equipment that is unrivaled in the world. I make crazy commercials that make people think. I like Tiger Woods, so I just made a crazy commercial about him. Let's play golf… and buy more of my shoes and stuff.
For some reason, in the middle of all this marketing mayhem, I am more sad than anything else. Sad about what could have been and sad about what is.
And now, in the words of one of the greatest fictional athletes of all time, Forrest Gump, "That's all I have to say about that."