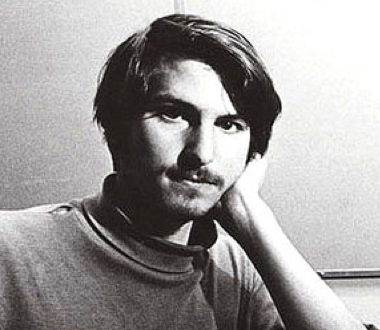 Satchel Paige, the over-aged, overachiever is famously credited for once saying this about his  passion for playing baseball: "Don't look back. Something might be gaining on you."
Steve Jobs had a similar idea.  "You can't connect the dots looking forward; you can only connect them looking backwards. So you have to trust that the dots will somehow connect in your future. You have to trust in something — your gut, destiny, life, karma, whatever. This approach has never let me down, and it has made all the difference in my life."
On the surface they may sound like different ideas, but they are the same. I believe Stephen King summed it up best in Shawshank Redemption. "Get busy living, or get busy dying."
But Jobs, as he so often did in his life, took it further. His advice about work and life was to find what you are passionate about and do it… and trust that the dots will somehow connect in the future. Certainly a young Steve Jobs could have been crushed under the
pressure of dropping out of college in his first year, just as a 30-year-old Jobs could have been devastated over being fired by the billion dollar company he created, just as an older and wiser Jobs could have accepted fate and given up upon learning he had cancer.
Instead, Jobs looked around to find his passion, pursued it and participated in it – taking a leap of faith as it were.  And trusting that the dots would somehow connect in the future.
Of passion he said: "Your work is going to fill a large part of your life, and the only way to be truly satisfied is to do what you believe is great work. And the only way to do great work is to love what you do. If you haven't found it yet, keep looking. Don't settle.
Satchel Paige played baseball for as long as the game would allow him.  Often times he made only enough money for room and board on the "colored" side of town. But by the early 1940s, Paige's estimated annual earnings were $40,000, which was four times the pay of the average player on the major league New York Yankees and nearly matched the pay of their top star, Joe DiMaggio. And although time took its toll, Paige, at the age of 61 (in 1967) appeared with the Globetrotters in Chicago and accepted the opportunity to play with the Indianapolis Clowns for only a $1,000 a month. Passion.
As for Steve Jobs, I think he summed it up best: "I was worth over a million dollars when I was twenty-three and over ten million dollars when I was twenty-four, and over a hundred million dollars when I was twenty-five," he said "and it wasn't that important because I never did it for the money." Passion.