Frito Lay SunChips continue to amaze me with its commitment to sustainability.  I just purchased a bag of SunChips and noticed it is now using 100% compostable packaging.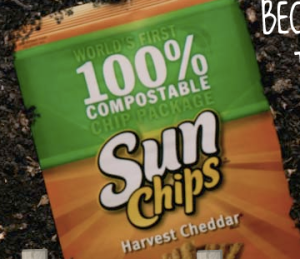 Rather then paying lip service to sustainability, this is an excellent example of one brand that continues to show consumers its commitment to our environment in tangible ways. Other examples include:
purchasing renewable energy credits to offset energy use
using solar power at its Modesto, CA plant to product 145,000 bags of chips a day
supporting sustainability initiatives across the country like helping rebuild Greenburg, Kansas into the greenest town in American after a devastating tornado.
While SunChips admits on its web site that these changes while important are minimal, it is a step in the right direction.  I can completely accept that because it requires operational changes internally to make a company "green" and that cannot happen overnight.
At first I was a little annoyed with the new compostable packaging because it is super noisy.  But after taking a closer look at the brand, I can appreciate the commitment SunChips has made to our environment.  I will be a little more tolerable of the packaging and a little more committed to the brand.