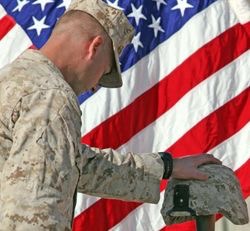 While it doesn't matter how you remember, just take the time to remember those who have sacrificed their freedom for yours, your family, your children and their children. The world is a better place because of these heroes.
My husband, a United States Marine Corps infantry major, shared a few words about what Memorial Day means to him.
Memorial Day is a day to remember all of those who gave their lives for their country. It does not matter who or in which conflict they fought, but to reflect on those who believed enough in America to stand up for their country and pay the ultimate sacrifice.
It is also an emotional day for those of us who have lost loved ones or friends or teammates in recent conflicts; a day to remember the fallen brothers, a day to try and gain closure, and a day to be grateful.
In memory of all those who gave their lives and to my husband's friends, we will never forget your courage and dedication to our country:
Capt Phillip Dykeman, USMC
Capt John Maloney, USMC
1st Lt Joshua Palmer, USMC
MSgt Thomas Saunders, USMC
SSgt Joshua Cullins, USMC
SSG Kyle Wehrly, USA
Sgt Garrett Misener
Sgt Joshua Frazier, USMC
Cpl Carlos Gilorozco, USMC
Cpl Brett Lundstorm, USMC
SPC Daniel Sesker, USA
Cpl Joshua Synder, USMC
LCpl Timothy Jackson, USMC
LCpl Dakota Huse, USMC
LCpl Michael Geary
LCpl Terry Honeycutt
LCpl Kyle Brown, USMC
LCpl Joshua Scott, USMC