Being that I am a 2019 grad, this is the first year of my entire life that I have not had a spring break! Looking back, I recall jam-packed breaks where I couldn't find a second to just "chill." On the flip side, I also remember the years where I couldn't wait for spring break to come to an end out of boredom. If that sounds like you this year, I encourage you to take advantage of this 7-day opportunity and prepare for your future. While this sounds cliché, it might be a true lifesaver down the road! Here are 6 things that might help you check off your professional to-do list to prepare for life after college. 
1) Shadow organizations and businesses.
There is nothing like putting yourself in the position you wish to hold when you graduate! To get a feel for what you like and what you don't like in your industry of choice, shadow local organizations or businesses in your community. By shadowing at your dream job, you can learn the ins and outs of your dream job while making a personal connection with professionals in your industry! You never know where that connection might take you. You might wind up in that same company down the road! [Hint: This can help you spruce up your LinkedIn page!] Feeling intimidated in requesting to shadow a business for a few hours? Don't be! If anything, the contact will be flattered by your desire to take initiative and put yourself into the shoes of professionals before graduation.
2) Get certified! 
Upperclassmen, I know you've heard about certifications at least once or twice in the classroom! This is the perfect time to knock a few out of the way. Getting certifications before graduation gives you a competitive edge because many students might not understand the importance of them. Getting certified allows you to hop into your industry before you even apply for your first job. If you're marketing or communication studies major, Google Adwords and Hubspot are a great way to get your foot in the door! If you're not feeling like going the certification route, for now, you could always look into tools you'll be using when you're in your career. For marketing students, investigating and getting a feel for certain social media management platforms or email marketing platforms is a good start!
3) Volunteer in your community.
Whether it's at the local animal shelter or local food pantry, there are dozens of ways you can give back! Take the time to make connections in the community and help a cause of your choice. Working with nonprofits is a valuable experience in that it gives you a unique perspective you might not find elsewhere. Forming relationships through a nonprofit and your local community could even lead to an internship or opportunities after graduation. Regardless, you have a community that needs your help and most nonprofits are just thrilled to have dedicated volunteers.
 4) Read and listen!
While this might be a good time to catch up on some textbook reading, it's never a bad time to pick up a book outside of your textbook list to gain some outside perspective. A simple Google search will provide you with endless results on the best books to crack open for your industry. Here is one for all you marketing and communication studies students out there! If you aren't sure what you're most interested in yet, never turn down a chance to read self-care/growth books or those that will help you become a better professional both in college and in the workplace.
Not feeling like reading on your time off? Take this time to listen! While you're taking that long drive back home, listen to an insightful podcast. Whether it's about personal finance or oriented towards the professional industry you're looking to get into, listening to a podcast might motivate your forward-thinking.
5) Start your job search early!
Dive into your industry on job search sites and see what positions you best qualify for with your degree and experience in the field. Maybe you'll find that your dream job actually requires more experience/specialization or a higher degree than you thought. For example, if you're applying for a marketing position and find that your desired position requires experience in search engine optimization, learn about it now! Your desired job might require a year or two of experience in the field, and you might find that you don't have any experience yet. Take advantage of opportunities to volunteer on campus, become a part of a student organization or apply for internships to really expand your skillset.
6) Go shopping.
… for business attire! While you start thinking about your job search, think about your interviews too. Depending on your industry, you might be suggested to wear business professional, business casual, or even casual! Is your wallet empty? If so, it never hurts to window shop and get an idea for what your professional style will be like someday. Just remember that when it comes time to start interviewing, dress to impress! Getting a feel for your professional style will make you feel one step closer to real "adulting," and isn't that what graduation is all about? Check out the infographic below to see the difference between business professional and business casual attire!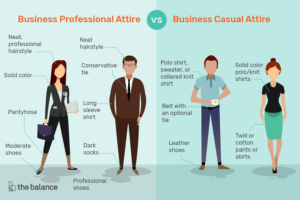 So, if you find you're getting bored of spring break, spend it investing time into your future as a professional. One day after graduation, you'll find taking the time to get ahead will really pay off, especially when your resume and professional portfolio starts to grow!