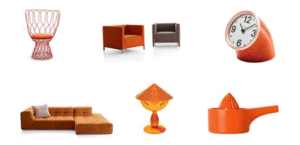 Say goodbye to last year's hot-pink hue Honeysuckle.  And say hello to Tangerine Tango, a reddish-orange hue that Pantone announced as the top color of 2012.  This color is already making its way into consumer products from fashion to furniture and kitchen products.
Why Tangerine Tango? According to a news release from Pantone, "There's the element of encouragement with orange, it's building on the ideas of courage and action, that we want to move on to better things. I think it would be a disservice to go with a relaxed, soothing color now," said Leatrice Eiseman, executive director of the Pantone Color Institute, the research division of Pantone Inc.
Selecting Tangerine Tango is not an arbitrary choice.  Pantone takes into consideration what shoppers want and need.  Also, they look at everything going on in the world from fashion to pop culture and consumer habits.
So let's surround ourselves with a little pop of orange and hope we all gain a little more encouragement as we move into 2012!