Today is the last day for most retailers/manufacturers to provide free shipping and delivery guaranteed by Christmas Eve. In fact, more than 700 retailers are participating and have coined the term "Free Shipping Day" (plus warehousing and distribution center service for companies).  There is even a consumer web site devoted entirely to this event – www.freeshipping.com.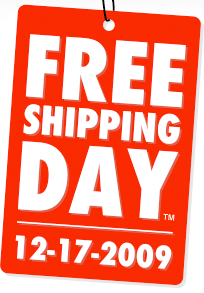 From the looks of my inbox (I have one email address devoted entirely to retail/manufacturers offers to stay on top of emarketing trends), retailers are pushing hard to get the message out.
Kodak:  Last Minute Shopping?  Gifts Delivered by 12/24
Express:  Winter Sale 40% Off!  + Free Shipping Today Only! + The More You Spend, The More You Save!
Ulta:  Hurry Up!  Only TWO Days Left to Ship Great HOLIDAY Gifts for FREE!
Pottery Barn:  One Day Only!  Free Shipping on all orders
It appears that retailers are on the right track.  According to a survey released yesterday by the National Retail Federation, consumers had completed only 46.7% of their holiday shopping by the middle of last week.  These numbers are slightly less than the 47.1% the National Retail Federation reported the same time last year.
Additionally, the same survey reported 35% of respondents would shop online.  This data suggests that online shopping has the potential to peak today and even exceed Cyber Monday numbers.