With new artists constantly emerging, marketing plays a prominent role in the success of their new projects. Finding creative ways to stand out amongst the masses is a necessity. Album release campaigns must be comprehensive, and engaging for the artist's target audience, similar to campaigns for a product or service. As a fellow marketer, these campaigns have become one of my favorite parts of artists releasing new albums.
Here are 3 unique album release campaigns that paid off:
Olivia Rodrigo – SOUR
Disney star Olivia Rodrigo released her first single "Driver's License" in January, and immediately began to break records. The single reached No. 1 on Spotify, Apple Music and Amazon Music streaming charts and broke the Spotify record for the most single-day streams with over 15 million globally. She released two more hits that left fans in anticipation for her debut album, SOUR, which was released in May. The record breaking didn't stop there as SOUR broke Spotify's record for the biggest streaming debut by a female artist.
Olivia Rodrigo is just 18 but was referenced as the mastermind behind the gen-z focused marketing campaign for the album. My favorite parts of the campaign include:
To celebrate the album release, Olivia partnered with Spotify to create the SOUR carwash. Olivia stood outside as fans drove through the free carwash and took selfies and videos with her. Each visitor (along with an extensive list of celebrities and influencers, of course) received packages with a box of purple Sour Patch Kids to match the album's signature aesthetic.
.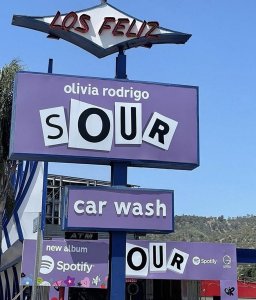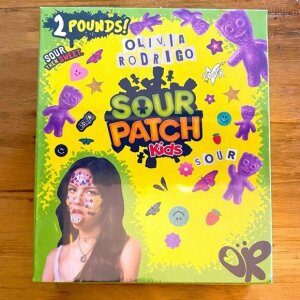 The teen-angst campaign continued with the SOUR Prom, a high school dance themed concert available on YouTube. Olivia's team chose a few superfans to receive a personal "promposal" from the singer. The chosen fans were provided formal dresses to wear, along with tickets for a guest, and their own personal driver to the event.
Along with the album, Olivia released a line of SOUR merchandise. The early 2000s-inspired line included sweatshirts, sweatpants, crop tops, bucket hats, and jewelry. Each with subtle references to her hit songs. Olivia was praised for creating merch that was on par with the latest fashion trends.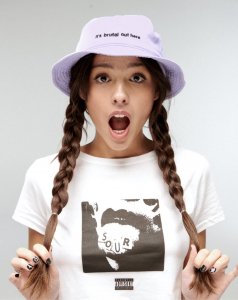 Kanye West – DONDA
Donda, Kanye West's tenth studio album was released this past week after he left fans on the edge of their seats waiting for a release date. Kayne, infamous for album delays, was set to release the album on July 23 following 'DONDA by Kanye West,' a listening event in Atlanta. The album release was pushed back which made fans unhappy, but the publicity was great for Kanye's marketing.
Kanye hosted three album listening parties, two of which took place before the album was even complete. The third was hosted last week in Kanye's hometown, Chicago, where builders created a replica of his childhood home on Solider Field. The listening parties completely sold-out, breaking an Apple Music record with the live stream of the second Donda event in Atlanta. The listening party stream had over 5 million viewers.
Kanye's brand, Yeezy, collaborated with Gap on a jacket that the rapper wore during one of the listening events (pictured below). The jacket was $200 and won't be shipped out until 2022. Still, 35,000 Kanye fans were able to snag the limited item. The YeezyXGap collab brought in $7 million in sales overnight.

Beyoncé – Beyoncé
Finally, Beyoncé's campaign was…no campaign at all. When Queen Bey released her 2013 visual album, Beyoncé, the entire record dropped in the middle of the night with no marketing efforts at all.
But the absence of a campaign soon became a campaign of its own. Mashable reporting that it was tweeted about 1.2 million times in the first 12 hours after its release. The surprise drop triggered more than 5,300 tweets per minute, which was record breaking during that time.
The album went on to become iTunes' fastest selling album ever until the record was broken by Adele. Beyoncé also broke the U.S. first-week album sales record with the release.
Each of these campaigns were strategic in their approach. From no campaign to a lengthy roll-out, each have been wildly successful in their own ways. If the evolution of music marketing in the past few years in any indication of what's next, I'm interested to see how extravagant album releases will be in the coming years.