Monty – our 3.5-year-old female fawn boxer – is the sweetest dog ever. As my husband and I say… "everyone loves Monty". And it is true. However, she has one major issue. Monty is a bit aggressive on the leash when she sees another dog.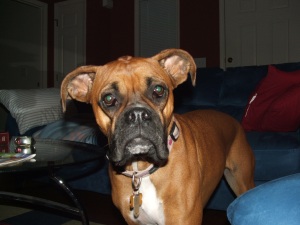 I basically have been avoiding places where people often walk their dogs because it can become very tiresome if she is constantly pulling on the leash. We have tried quite a few different collars – a harness, choke collar, choke pinch collar and even a plastic choke collar. I will admit that there is probably some operator error; however, none of these were really working. All I wanted was to walk Monty effortlessly and not have to worry about running into other dogs. Oh yeah, and to stop getting those looks like… can't you control your dog!
That is why I called in the expert – dog trainer Beth Shepherd. Beth told me we would use the Gentle Leader Headcollar to train Monty to be more obedient on the leash. I was a bit skeptical, but after seeing how Monty reacted during our first training session, I quickly realized the Gentle Leader is amazing.
According to the web site…. "Designed so that owners can communicate with their pet in a way they instinctively understand, the Gentle Leader painlessly and effectively removes the dog's natural tendency to pull by placing gentle pressure on calming points and eliminating uncomfortable pressure on the throat. In addition to reducing a dog's desire to pull away, the Gentle Leader is also a very effective tool in combating lunging, jumping, excessive barking and helping to calm an aggressive and/or anxious animal."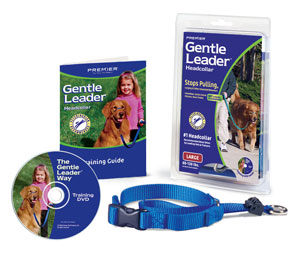 I agree with everything the manufacturer of Gentle Leader is saying about this product. However, just like any "tool" you have to know how to use it effectively. If you aren't getting help from a dog trainer, I suggest watching the video. Also, according to Beth, the Gentle Leader is just a training tool. While it can be used for the remainder of the dog's life, the idea is to use the Gentle Leader to get the behavior you want from the dog and then use another form of a correction collar.
Of course all dogs are different, but it did take Monty some time to adapt to the collar. She would get a bit frustrated at first, but then with some treats to reward her, she adapted without a problem. She walks right by my side and there is no pulling! It certainly makes running and walking much more enjoyable with Monty. We are still working on approaching dogs on leash with Beth, but I already saw a remarkable difference.
Thank you Beth and thank you Gentle Leader. I know Monty and I still have a lot of work to do, but at least I can be confident that I can control her and no longer have to avoid those can't you control your dog looks.