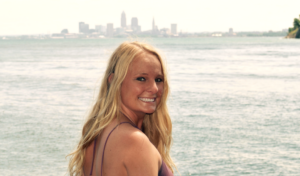 Our digital marketing leader, Rachel Dill, celebrated her fifth anniversary here at Sweeney this week! We figured what better time to chat with her and reflect on her professional experiences? From digital marketing to Rachel's own personal brand, we covered what makes this "Rising Star" tick, her favorite parts about the industry and one of her proudest moments as a professional.
What is your favorite part of all things digital?
I enjoy how quickly things change… It's exciting because I can come to work (or in COVID times, login to work) every day and know I am in for a new adventure. I learn something new every day whether it's about digital marketing in general, new martech or our clients' industries. I love that digital marketing allows us to personalize marketing and optimize efforts to specific audiences. This way, we as marketing professionals get to learn more about who we are marketing to and what they want to see from us.
How about your favorite part of marketing as a whole?
One word… strategy! I love strategic planning because I enjoy problem-solving and thinking of the "bigger picture." Having worked at an agency with a variety of clients in different verticals, and on both the traditional and digital sides, I love to really look at marketing as a whole when thinking of how we can best reach a client's goal. Of course, there are certain tactics I enjoy doing more than others (cough, cough digital), but with strategic planning, it's all about what strategy is going to give clients the best results possible, not what tactics we prefer to do. The process of helping clients achieve goals with strategic thinking, and then going back to analyze the results, is exciting to me because I enjoy finding out what worked well and what didn't so we can constantly adjust the strategy and always learn.
How has digital changed since you started your career?
Tactically, the software and platforms are evolving constantly… most don't look the same as they did when I first graduated or they didn't even exist, which is crazy to think about! Strategically, I think there is more emphasis on balancing agility with quality of work now that things are moving more and more quickly in the marketing field. I'm happy I joined the industry when I did because I feel like experimenting with marketing in smaller sprints and using data to constantly adjust what you're doing is more widely accepted vs. the days of planning for one giant campaign. Even in my senior capstone project, we did a big, multi-month marketing campaign plan for a client, whereas now the plan would likely include experimental marketing with a more agile mindset and would be constantly adjusted based on data and customer feedback, so we are never "failing at scale."
What inspires you professionally?
Hearing different perspectives on marketing or business in general, whether from books, articles, conferences, other marketers, or podcasts, is inspiring to me. For example, I'm inspired by the How I Built This Podcast because learning about different industries and how companies got started keeps my wheels turning. I love hearing different perspectives on marketing whether it be from people of different generations, countries, industry backgrounds, etc. because I think we can learn a lot from other people's experiences, and I think it's important to not base all your learnings on one source. Different people have different strengths and ideas and the more people you talk with and listen to the more well-rounded you'll be (and you'll never stop learning and being inspired)! 
What is an accomplishment that you are most proud of?
Definitely winning the PRSA Rising Star Award! When I graduated college, I knew I wanted to get involved with the professional marketing and communications community here in Cleveland, and when I started out in PRSA, I was rather intimidated. I didn't know much about the professional world, and I didn't know anyone in the Cleveland group. Now, I have a leadership position within the organization and that in itself was a big accomplishment for me! I went from being at the bottom of the totem pole to being recognized by the organization that I was once timid to be a part of. All of my worlds collided at the award ceremony because my family, coworkers and industry colleagues all attended. It made me proud to know they were supportive and proud of me. It makes me realize how far I've come and motivates me to do better and accomplish more every day.
If you were a brand, what would be your motto?
"Stay curious and always be the best you can be at whatever you're doing." Giving your all to what you're doing (even if it's not your dream job) is one of the best things you can do for yourself. It will open doors you may not have known were there, and I can't stress enough the importance of keeping that child-like curiosity and committing yourself to be a lifelong learner. To me, if I am not constantly trying to learn and get better, what am I doing?