I'd like a Big Mac, Mc BLT, A Quarter-Pounder with some cheese, Filet-O-Fish, A Hamburger, A Cheeseburger, A Happy Meal. Hot chocolate, iced mocha, latte, cappuccino ?!
Today I gave in and headed to the golden arches for a Coke and some fries. As I pulled into the double drive through, a fairly new addition to the Gordon Road McDonald's, the employee asked me over the loud speaker "Would you like to try our hot chocolate today?"
I contemplated trying it for a moment because I was so perplexed that McDonald's was promoting its hot chocolate. Their premium roast coffee maybe… but hot chocolate? I politely declined and drove away with my Coke and fries.
Intrigued, I did some reach and discovered McDonald's is actually installing McCafes into their locations.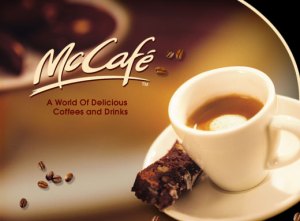 McCafes serve mochas, hot or iced; lattes, hot or iced; cappuccinos; and hot chocolates. McDonald's premium roast coffee and iced coffees are still available as well. According to an article in the New York Times (http://tinyurl.com/a5arkx), McCafes have been installed in 6,500 of McDonald's more than 14,000 stores nationwide.
In fact, you can visit http://www.mymccafe.com/ and see if a McCafe has been installed at your local McDonald's and download free coupons for a mocha, latte and cappuccino.
Will the McCafes be successful? Even though Starbucks has been closing numerous locations, I think the McCafes have an excellent opportunity to expand McDonald's and further establish its presence in the beverage category. After all, look at the popularity of the McDonald's shakes and orange drink. And according to the New York Times, in the two years since McDonald's introduced premium coffee, sales of drip coffee are up 70 percent. It is so easy to run through the drive through (especially since they have expanded many) and get your cup of joe for the day.
McDonald's has certainly been making some smart decisions throughout the recent years and McCafes will likely be added to the list of successful business decisions. According to the New York Times, "as of November, the latest data available, the company had delivered 55 consecutive months of increases in global same-store sales. During a year when the stock market lost a third of its value — its worst performance since the Great Depression — shares of McDonald's gained nearly 6 percent, making the company one of only two in the Dow Jones industrial average whose share price rose in 2008. (The other was Wal-Mart.)"
Congrats Mcedees!