We've worked in the lighting industry for the past 7 years, so LIGHTFAIR International (LFI) is a trade show we frequent. It's always fun to see how companies continue to make the show more entertaining for trade show attendees.
After working media appointments at our client's booth, we had a little time to walk around the show floor and see how other exhibitors were promoting their products and brands. Here's a quick round-up of some of the more engaging, unique things we saw that go beyond the typical booth babes!
Xicato: Comic Book-Theme +  Bright Red Capes!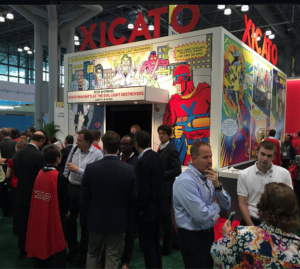 Some may call it hokey and corny, but it was attention-grabbing! And if you didn't know about Xicato before the show, you at least now know that they  like red capes! Lots of photos were snapped with the Xicato team throughout the show. The team said they were excited to do something unique and fun, and that there was a lot of energy at the booth because of it.
RAB's Artwork with its New Architectural Lighting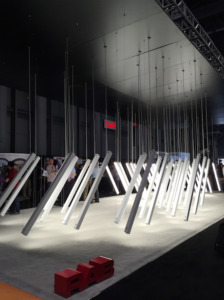 RAB took a chance and devoted its entire booth space to showcase its latest BOA™ Architectural Linear LED. The booth caught our attention and we spoke with those who were manning it. They said feedback was positive at the show on the display, as well as the fixture itself. At least the talking points were easy to memorize!
CREE's Whiteboard Walls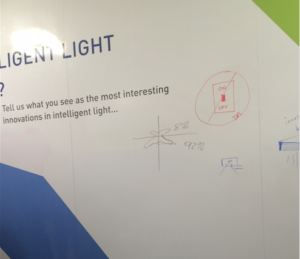 This may not seem super exciting, but we were pleasantly intrigued by the whiteboard walls at CREE's booth. When getting into specifics and explanations, sometimes experts can drive the story home during the conversation with simple drawings/graphics. We feel this way a lot during media appointments. Sometimes you just have to see something to understand it. While we have no idea what is on the whiteboard in this photo… hopefully it helped someone understand something about CREE's products!
There were so many other interesting things – this is just a quick summary. And whoever was wearing the Knight uniform around, I'd love to know why!