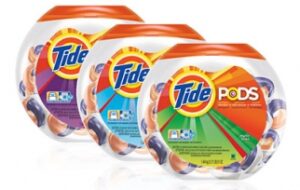 Get ready to transform the way you do laundry. In February, Tide is launching Tide Pods – laundry detergent packaged in a dissolvable shell.
This seems like such an easy solution that it is a bit perplexing none of the laundry detergent manufacturers have launched this previously. In fact, Tide has been selling these "Pods" in Europe for more than a decade. And US consumers have no issue with dishwasher detergent packets. So why should laundry be any different?
I certainly think this concept will catch on, and other manufacturers will soon be jumping on the bandwagon for a few reasons.
First, detergent is messy. We use liquid detergent and I hate it when my husband doesn't thoroughly clean the liquid detergent cup (although I don't gripe about it because afterall he does help with the laundry). Also, it is annoying when the detergent drips from the large containers that feature an easy to pour spout.
Second, both liquid and powder detergent takes up a lot of space. Reducing this space will be useful for both large and small households alike.
Third, it reduces our carbon footprint by eliminating the shipping of heavy liquid or powder containers.
Finally, you don't have to lug a big laundry detergent box or bottle from the store to your house any more.
Love it… I'm sold!