You know it is summer when you see fruit shaped Kleenex boxes!  Really… it's the new sign of summer.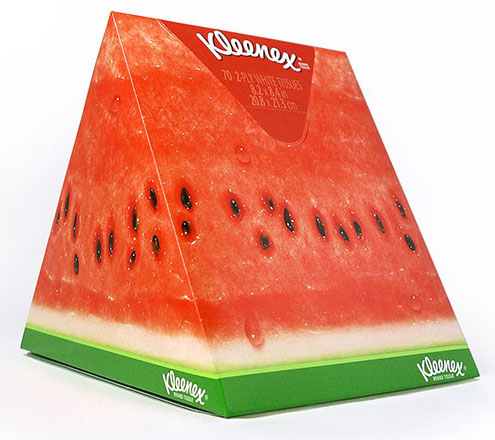 Just this week I was in Target and saw an end cap display of Kleenex's "Perfect Slice of Summer" tissue boxes.  At first I thought the idea was a bit strange.  What would guests think if they were in our bathroom and saw a watermelon, lime or orange shaped cardboard box on the counter?  Aren't tissue boxes something we try to hide rather than draw attention to?
However, I was in Rite Aid yesterday and saw the Kleenex boxes again. This time, I looked at the boxes from a marketing standpoint and considered what Kleenex did an excellent marketing strategy.  They literally and figuratively thought outside the box.
When it comes to product packaging consumers expect the norm.  When a manufacturer can create truly unique product packaging that aligns with its target audience, the product will certainly get more attention on the shelf where most consumers make last minute decisions on what brands they will purchase.
Kudos to Kleenex for making something as mundane as a tissue box a little slice of fun!