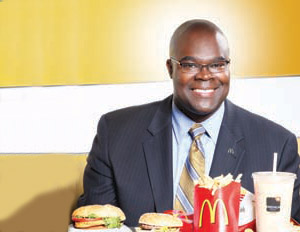 So in case you  missed the big news, McDonald's is making changes. And it is taking the next 18 months to develop and roll them out. That's a lot of time, which would indicate the potential for some very serious changes.
Obviously Chief Executive Don Thompson has seen the light or at least some light. His sense of social responsibility has clearly ennobled him to desire a healthier, cleaner and more responsible restaurant brand.
So we should probably prepare ourselves for dramatic change: No more deep fried fat foods and super-sized sugary drinks that contribute to obesity and diabetes and heart failure.  No more scary clowns, dirty bathrooms and bacteria-infested playplaces. No more underpaid, pimply-faced, out-of-control teenage employees.
Or  not.
According to recent Bloomberg  Businessweek story, "The chain told investors this week it is taking the next year and a half to regroup after sales continued to slide in the recent quarter and such competitors as fast-growing Chipotle Mexican Grill seem to be leaving the burger leader behind."
So there you go.  Sales are down, so it's time for a change. But clearly it is not just about making more money; McDonald's loves obese, diabetic, life-challenged customers of all ages, races and religions. So the change will have to be something important.
According to Thompson, "The McDonald's renaissance will encompass a simplified menu, remodeled restaurants, and such modern amenities as Wi-Fi. The company will also open more restaurants and expand its digital efforts. Core products, such as the Big Mac, Egg McMuffin, and fries—three items that account for about 40 percent of sales—will be at the center of the food efforts, and expect menu additions to be focused around "premium" beef and chicken items, breakfast food, and coffee and blended ice drinks."
So, more fat food at higher prices with better Internet connection. Now I get it.