A recent experience I had with Vitacost is a perfect example of how to make customers happy on social – even if it is one customer at a time.
Just last week, I was meeting with about 5 fellow U.S. military wives in Chile. We are all huge fans of Vitacost because they have an awesome selection of healthy products, they don't sell in bulk, costs are reasonable, and most importantly, they ship to DPO/APO/FPO addresses for free. DPO/APO/FPO addresses are provided to U.S. military and other government employees when working abroad (including war zones, embassies, etc.).
However, one of our friends was recently charged a $9 shipping fee when ordering product to be shipped to her DPO. She called customer service, and they said they don't ship for free to DPO/APO/FPO addresses. Confused… she consulted with the group.
We immediately took the concern to Vitacost's Facebook page and inquired if there was a new policy. In about 24 hours and over a weekend, a Vitacost social media contact responded that she was sorry about the issue, it is being resolved and she would refund my friend's $9. How's that for action.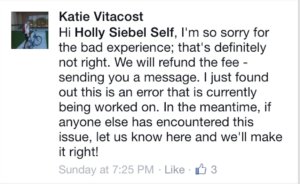 Social Resolution Authority
In order for brands to be successful resolving customer service issues on social, they need to develop and document a strategic approach to how customer service issues are handled and resolved. One very specific component of this is what level of authority the social media managers are given to address customer service issues on social. Without any level of authority – or a quick chain of command to approve a resolution – customer service on social media can do more harm than good.