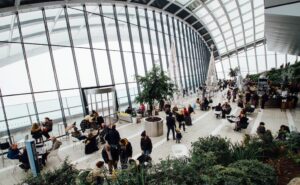 It's finally mid-November and time for the fun-loving spirit of the holidays! Oh, but how could I forget? It's still 2020 and we have yet to deliver a vaccine for the Coronavirus. This means the holidays will be a little different this year! Will families gather? Will families travel? Will families and friends give a little differently? On the flip side, how will marketers reflect the challenges this holiday season in their commercials?
Marketers are being put to the test. Holiday ads are typically easy… Appeal to emotion, play out the typical "Home Alone" scenario of a family traveling to visit family states away and reuniting with their loved ones for the "best time of the year". Kind of like this Apple ad and this Amazon ad from 2019. Watching this in 2020 feels like a nightmare with crowded rooms, no masks and packed in-flight travel. How can brands capture the essence of what the holidays are about without the typical holiday ad story line of gathering, hugs and travel? Here's another kicker: mask on or mask off when portraying family gatherings? No matter the choices marketers make this year, consumers are on alert like never before and are bound to see something wrong in ads this holiday season. Peloton may never live this one down.
We're on our toes to see what the industry's most creative minds come up with this year. Looks like there are already some companies playing it safe this holiday season!
Aldi + Personification
While this has been done in years past, applying personification in animation could be something we see more than usual this year! Animals don't have to wear masks and social distance. However, could the argument be made that because they are personified, they should follow the same regulations and guidelines as humans? Maybe I'm overthinking it, but maybe it's an explosion waiting to happen.
Coca-Cola + A Mission (This one gave me chills!)
"This Christmas, give something only you can give. Be it in person, over an awkward video call, or just a quick message, making time for the ones you love is what makes Christmas truly the most special time of year, no matter how you do it." Nicely said, Coca-Cola!
Etsy + A Virtual Christmas
https://www.youtube.com/watch?v=4o4eMcIe4NA&feature=emb_title
They had to go and pull on our heartstrings! Etsy did everything right in terms of a COVID-safe ad. However, people are still finding a way to dunk on the ad by making fun of the unordinary appearance of the doll. Sure, it's not your average doll, but it's unique, and I'm sure the average consumer won't forget it.
Looks like we're on the right track so far in 2020 as far as holiday ads go. Marketing teams could leverage new formats and launch unique campaigns like we have never seen before! Here's to hoping this isn't a case of crisis communication waiting to happen and that the holidays in 2021 will look different than they do in 2020.