H&M created a unique campaign on Instagram revealing its 2015 holiday campaign and captivating followers. The brand started revealing snippets of a larger photo hour by hour on Instagram, leaving followers guessing what celebrity was headlining its holiday marketing campaign.
Here's how it played out.
And love the touch of all the photos creating a single image on the brand's Instagram home page.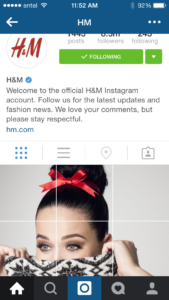 The likes and comments were significant – tens of thousands of likes and hundreds of comments. But there is a disclaimer. H&M tends to get significant likes on its Instagram posts on a regular basis. Could be this brand's target audience tends to skew younger and they just know their audience. What's important is H&M is thinking beyond product photos (ahem… Starbucks), and engaging their Instagram audience in unique ways.