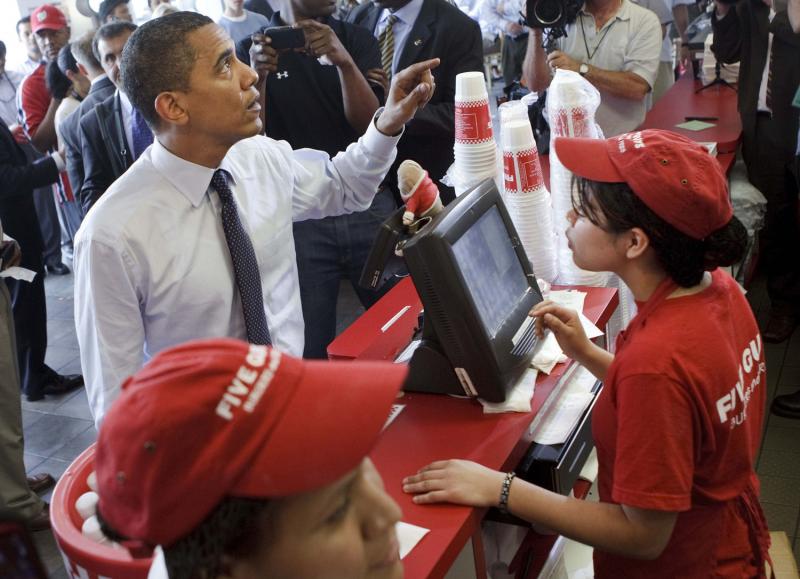 Like many Americans wanting to be the biggest loser, I gave up on fast food about a decade ago. No more McDonald's Happy Meals, no more flame broiled Burger King Whoppers, no more Wendy's singles and chocolate frosties. I just quit.
And then along comes Five Guys Burgers and Fries. I had to try it. President Obama eats there, it must be good. And it was.
Fresh burgers made the way you like it, massive amounts of tasty fries and all the free shelled peanuts you can eat. And neither the wait nor the price is out of balance with the end product. But at the end of the day it is still fast food – still fried beef and potatoes – so why do I keep going back? Did I mention that I keep going back?
I have sworn off fast food and refuse to even fry foods at home. But at least once ever other week I find myself back at Five Guys for a small burger and a small order of fries (that I never finish). And I think I've figured it out.
Yeah, the food is good and that's definitely part of it, but it's more. The place is always clean; the floors, the counters, the tables, the cooking area – always spotless. The "five guys" who work there are always nice and friendly and sincere, chirping out orders and breaking into songs. In the meantime, there is always a solid mix of music playing in the background – not too quiet, not too loud. The place is always packed, but never overcrowded, and the wait is never unreasonable. And all the locations (I've been to three of them) are conveniently situated.
In short, it's an easy and enjoyable eatery. And in a world that is forever changing, Five Guys is one of those places – one of those experiences – you can count on for consistency.
And here is the marketing magic: I never heard of them before they showed up in my neighborhood. I have never seen a TV ad or heard a radio ad or read a newspaper ad or received a mailer. I have never received an e-mail or been to their web site, I don't follow their Twitter account and I am not a Facebook fan. I have not been tainted by outbound or inbound marketing in any way.
Yet I apparently am a loyal customer. Go figure.