As a marketer, determining consumer-purchasing behavior is key. For example, is it third party media or blogger coverage that drives purchases? Is it price? Celebrity endorsement? Referrals? Advertising? Social media? Direct marketing?
I'm constantly evaluating my own consumer buying behaviors to help shed some light, like a recent Thundershirt purchase for our dog Monty.
Monty has developed a terrible phobia of thunderstorms, and it is only getting worse. We find her hiding in our utility room shelving unit or in my closet. The poor dog is so distraught she starts panting and shaking even if she hears a drop of rain.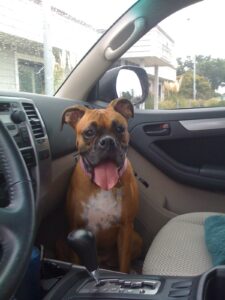 I was talking to my friend Sarah one day about Monty's behavior. She recommended the Thundershirt even though she hadn't used the product. I considered looking it up online, but never took the initiative. Then my father-in-law mentioned it a few weeks later and sent me the web address.
The first thing I looked at on the website, was the price and media coverage of the product. Since I was a little leery this product would actually work, I also read the testimonials from dog owners, trainers and veterinarians.
But what ultimately got me to pull the trigger was Thundershirt's guarantee policy. The company allows you to send the product back for a full refund (less S&H) within 45 days. I don't like to be "duped" as a consumer even if the price is low, and this made for TV product had me a little skeptical. So the guarantee made the purchase a little less risky and ensured me the Thundershirt wasn't going to be our next dust collector.
While we are still waiting for a storm to test the Thundershirt, analyzing my purchasing behavior for this particular product provided yet another example of the power of referrals and third party credibility. Whether it be customers, media, bloggers, consumers and/or experts, establishing credibility – especially for a new product manufactured by an unknown brand – is a necessary marketing strategy.